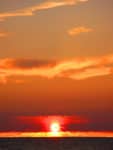 The sun is a red disc hanging low in the sky, it reeks of smoke, and I can't stop coughing. Running today is going to be an adventure, I can just tell. At least this is what we have the treadmill for; I can run inside and not perish. At least, hopefully.
The smoke is from the California and Oregon fires; we're right on the border between Oregon and Washington. Come afternoon it will probably stream out to sea, but in the meantime we're breathing it. I can barely imagine what it must be like in California right now. Last night my writing partner remarked "I said 2020 could go die in a fire, and I guess it took me up on the offer."
I've been using the D&D fanfic to keep myself going. There's a certain Murder Himbo NPC my character's getting involved with, which is a lot of fun. In game and in fiction, it's super hot. In real life, it's a restraining order waiting to happen, and I'm exquisitely glad for that division. It's fun to play my psychotic teenage id constrained only by dice rolls and the whim of the DM, but it's also good to crawl into my nice safe bed with the dogs each night.
I mean, I love me a good murder himbo, but I wouldn't want one around the house. Imagine the cleanup.
Today is for dropping a lit match onto the carefully stacked kindling in The Bloody Throne. Throne is Book 3 (The Poison Prince comes out in November), so it's the payoff I've been building towards for two and a half massive chunks of text. I'm also in the last half of the third season of HOOD, and just about to write Maid Marian, Friar Tuck, and Little John breaking a planetary embargo to bring back King Richard and end Prince John's reckless, despotic rule. So each writing session is slow but paradoxically mentally a bit easier than usual, because I've stacked all the blocks carefully and now just have to make sure they fall in the correct pattern when I yank the keystone out.
That's a lot of mixed metaphors, but you get the idea.
I may have to take a couple days off soon, because my wrists are still hashed from the portal fantasy I wrote during my semi-nervous breakdown and also from spending the weekend dumping out 16k or so of the D&D fanfic on top of regular work. The spirit is more than willing–work, running, or game sessions are the only times I forget everything else happening in the world–but my flesh is beginning to think I'm a bit of a martinet.
Ah well. Ice, stretching, and ibuprofen are the order of the day. I am wondering if it's worth taking the dogs out for a walk in this smoke-haze. Boxnoggin is a Sensitive, Nervous Fellow, and is already skittish from the few days of high winds. He really, really doesn't like the smell of burning. Miss B is sanguine, of course–not much disturbs her as long as I'm nearby. She has largely consigned both winds and smoke to the realm of "things my goddess does I don't understand" and leaves them to me to sort out. Which is as it should be, but Boxnoggin still thinks he has some sort of responsibility to Take Care Of It, and of course he's manifestly unfit so it stresses him out.
I keep getting nervous, high-strung pets nobody else will take. Gee, I wonder why.
I'm glad of my own precarious bubble of safety today; I wish I could share it with everyone on earth. Be kind to yourselves, dearly beloveds. Right now, survival–in whatever forming whatever fashion–is winning. Illegitimati non carborundum, and all that.
Bastard Latin, yes, but it gets the point across. Happy Thursday, over and out.