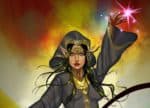 The wind is pouring through the Columbia Gorge; yesterday afternoon it bore smoke on its back, darkening the sky in the space of an hour and turning the sunset into a lake of blood. This morning most of the burning is gone, though I can still taste a tang or two as the wind shifts. It sounds like the sea, and the trees are flinging bits of themselves away with abandon.
It's a nice day to be back at work, a nice day to walk the dogs, and a particularly nice day to write fanfic of our D&D campaign. I can't do the last until I finish actual work, but I can long for it all I want.
Our weekly game was started during lockdown; our DM takes morale during uncertain times very seriously and, after a small starter campaign that almost broke us (it wasn't designed for our play style, but we muddled through anyhow) we are now embarking on a homebrew. I haven't played since high school, and am surprised by how much fun it is with adults.
We have the half-orc barbarian whose sartorial sense is only rivaled by his backhand and his cooking skill, a sylvan half-elf ranger obsessed with weapons and linguistics, a rogue with several past marriages and a gnoll toddler (both things unrelated to each other), an elvish vengeance paladin who keeps muttering oh my goddess, not again, and my own character–sort of my id let loose–a very young elf cleric whose last major act was biting some jerk's nose off in a tavern.
We are a lot of fun, if you haven't guessed. The entire session is a cacophony of laughter, in-jokes, moaning or cheering at dice rolls, lunatic roleplaying, and the DM throwing up her hands and sighing "Y'all need Jesus," at least twice a session.
The first "Y'all need Jesus" is always celebrated with much glee.
Honestly, if I'd known it was this fun, I would have started doing this ages ago. But my initial experiences with the game were… well, it was a bunch of teenage boys who didn't like a girl playing, so that was unpleasant. And I'm told we're not the usual group–seducing the catfish is our preferred method, although when the murder starts we're frighteningly good at it. The homebrew campaign is going to be a sort of mafia-wars thing in a Waterdeep-based city, and our first night in town we made a gigantic enemy who will probably kill us all.
And we regret nothing. Even the whole "steal from the banshee and almost die" affair.
Amusingly enough, with three paying projects on the burners and the alien romance tapping its foot and waiting impatiently, I've started doing quasi-writeups of our sessions as well–suitably altered for fiction, of course–because it's hilarious, and it gives me a version of the fun feeling the game does. It will probably remain unfinished forever, or its finished version will eventually bear absolutely no relation to the game, but for the moment it's therapeutic as fuck.
The biggest thing for me is a few hours each week where I don't have to be myself, and further don't have to perform emotional labor for everyone in range. There are consequences to actions in-game, of course, but very few outside, and that is utterly liberating. The feeling of pressure slipping away when Friday afternoon rolls around is luxurious. It's been one thing keeping me sane through lockdown, and the story is just a bonus.
I suppose it wouldn't work quite as well if DM, rogue, cleric, and ranger hadn't been friends for almost a decade. The communication strategies evolved during long-term friendship have stood us in good stead, and there's a deep comfort to doing outlandish things with people who understand your weirdness.
Not only that, but the DM created an NPC for my cleric that tickles all my narrative kinks. If that's not saying I love you, I don't know what is.
Happy Tuesday, my beloveds. I'm beginning to think I might get through, you know, all this. (Imagine me waving my hands wildly, indicating the entire world on fire.) At least I'll go down laughing, if I must fall at all.
Over and out.