In honor of spookytimes, October will see two sales! And the first one's a real doozy–that's right, my genie-and-accountant Halloween romance is just $2.99USD for the month!
---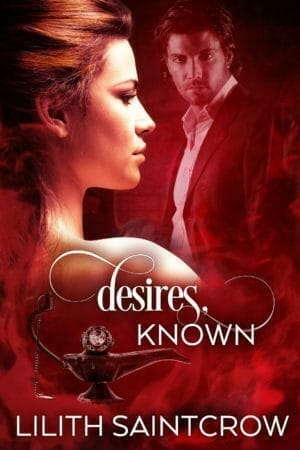 A ring. A man. A centuries-old secret.
To accountant Emily Spencer, the junky thrift-store ring is perfect for her Halloween costume. A few too many drinks, a slip of the tongue, and all of a sudden there's a guy calling her mistress and demanding to know her desires. If she just ignores the weirdness, it'll go away, right?
Wrong. Hal is a creature of almost limitless power, eternally bound to serve the owner of the ring. Though modern technology is puzzling, he has no difficulty deciding he likes being out in the world again. Even if he has to train a reluctant but undeniably attractive new mistress.
Unfortunately, the man who lost Hal's ring so long ago is still around—rich, unscrupulous, and more than a little insane. He'll try anything—deceit, treachery, torture—to regain control of Hal. Anything at all.
Including murder…
---
This book holds a special little place in my heart, mostly because of the scene where Hal and Em are at the library. Writing a genie discovering the romance section was an outright ton of fun. (Gotta amuse yourself in this business; it's the only way to stay relatively sane.)
The second sale won't hit until the 15th, so watch this space. And I might even have some good release news, too…