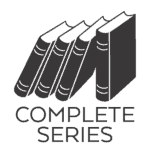 The Society
The black-ops government agency called Sigma broke Justin Delgado, trained his psionic talent and turned him into a killer. Then he escaped and joined the Society, an underground resistance movement of psions determined to use their talents to bring Sigma down. Competent, cold, and cruelly efficient, he's the best operative the Society has, a legend among the psions who fight a shadow war against an enemy that owns the courts, the press, and the police. Feared even by his own teammates, hunted by the government, and too damaged to feel anything but clinical rage, he is utterly alone–until he meets Rowan.
When Rowan Price stumbles across Delgado's team in an abandoned house, he is assigned to make contact with her, bring her in, and keep her alive–because Rowan is one of the most powerful psychics the resistance has ever encountered. She possesses a talent that can heal shattered minds and broken bodies, or it can incite riots and revolution. If the government gets its hands on her, she could very well mean the downfall of the resistance, because nobody, not even Rowan, is quite sure how far her talents extend or how powerful she could eventually become. Twenty-four hours after she meets Delgado, her life is shattered and she's on the run from Sigma. If Sigma can't take her freedom, they'll settle for her life. She is simply too powerful to be left alone. The Society will welcome Rowan, if she can stay alive long enough to join them.
Unfortunately, there's a traitor buried in the ranks of the resistance, ready to betray everything the Society has worked so hard to achieve. If the Society goes down, Rowan is at risk. God alone knows what Delgado will do to keep her safe, because Rowan is fast becoming the only thing in the world he cares about…
---
Hunter, Healer
Their first mistake? Kidnapping her lover. Their second? Thinking she wouldn't do something about it.
The black-ops government agency known as Sigma has shattered the resistance, destroyed its infrastructure, and taken its best operative captive. It's about as bad as it can get, but Sigma's forgotten one thing: Rowan Price.
Rowan is no longer a civilian in the shadow war. Her talents are fully trained, and she's become something she never dreamed of—a cool, clinical, lethal psionic operative. Working as Henderson's second-in-command, she's utterly focused on two things: repairing the Society's infrastructure and rescuing Justin Delgado. Yet under her shell of calm and gentleness, her rage is simmering . . . and it's about to break loose.
Delgado knows he can't remember something important. He puts up with Sigma's beatings and questioning, the pain and the torture. Sigma keeps asking him the same question—where is Rowan Price? He doesn't know who this woman is or where she is, but if he can escape Sigma one more time, he's damn sure going to find out. Because Price, whoever she is, holds the key to his fractured memories and destroyed soul.
But first, he has to get out. Then he'll find Rowan Price.
Unfortunately, that may be the one thing Sigma's counting on.