A blonde stewardess, her hairspray-teased head cocked at an impossible, lolling angle, smiled with blood-threaded teeth as a pilot's disembodied voice floated through an aluminum tube. "Ladies and gentlemen…ladies and gentlemen…"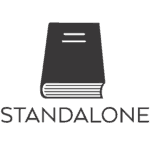 Outside small thick windows, hungry grey air screamed. Light and dark revolved, crunch-thumping as carryons, magazines, purses, and other daily objects became missiles tumbling through space, flickering through eyelid-flutter strobes. Right and left changed places, and a woman in the red skirt and brown coat held her seat arms with white knuckles, staring at the stewardess in the jumpseat. Trim, uniformed arms and legs flopped like a doll's; the blond stewardess gazed with wide, horrified, glazed blue eyes and that crimson-laced, jolly rictus.
One last terrific jolt raced through a winged tube that had been meant to carry three hundred people to Cincinnati. Then the windows cracked, and the roaring swallowed every soul on board.
It was over.
But that was just the beginning.
Note: This is a novella, approximately 20K words.