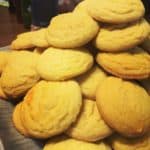 Yesterday was… an experience. I was already exhausted, unable to sleep Tuesday night; I finally got up, let the dogs out and fed them, and grabbed my phone on the way back to bed, thinking I could at least have a bit of a lie-in.
Boy, was I wrong.
I found out white supremacist terrorists were rioting in federal and state capitols, egged on by their Dear Orange Leader. It was unsurprising–I did, after all, write a whole book about this back in 2015–but still terrifying.
I've read history. I know what could happen, what's likely to happen. I don't mind telling you I'm not sanguine about any of this. Most of all, I'm pretty sure none of the racist fuckwads attempting a coup for their Tangerine Twitler will suffer any real consequences.
The Princess was home from work, too, and had glanced at the news early in the morning–then remained fixed to it, horrified. Every time some-damn-thing else happened, one of us would call down the hallway. The Prince, busy with distance-learning, spent the entire day holed up in his room with schoolwork, and consequently had only faint intimations of trouble until we all convened for dinner. I was glad both of my children were safe and home where I could see them. Probably irrational, but powerfully comforting nonetheless.
What I really want to talk about, though, is chocolate chip cookies.
The day ended, for me, with hugging my children–though both of them are much taller than I am now, they still find comfort in Mum's closeness–and reassuring them. Reminding each other to breathe, reminding them that we have plans in case things go haywire, reminding ourselves that we're in fact extremely privileged and lucky. I retreated to bed hoping against hope for some sleep.
Helped by exhaustion (and, let's face it, a dose of Tylenol PM) I did manage to pass out. My dreams were feverish, ending with some guy in a flying lawn chair swooping through neighborhood backyards. (I don't know, don't ask me.) And when I resurrected in the clear light of dawn to take the dogs out once more, there were chocolate chip cookies on the dining-room table.
"Yeah," the Princess muttered, when she shuffled out of her bedroom for breakfast. "World's on fire. Figured I'd bake."
"The cookies," I said, through a thick fog of pre-caffeination, "didn't exist before, now they do. We'll eat them and they'll be part of us forever. You made something out of other things. That's just so cool, and it doesn't have to be monetized although we're trapped in late-stage capitalism."
My daughter grinned, in the particular way that means she understands but can't resist poking me. "Get some coffee, Mum." She paused. "I love you."
Kids, man.
Really, they weren't just cookies. They were a cry in the face of destruction, a hope for something better, a way to say I love you not just to me but to her brother as well, a soothing reminder that we can build and make and do things that weren't there before.
Creativity–making things–is powerful and healing at the same time. Making something that wasn't there before is an old, old human magic, and so innate we overlook it. Magic is changing consciousness at will (thank you, Aleister, you were a jerk but you did have a way with words sometimes) but it's also willing something into existence. The human capacity to create is natural as breathing; we take it for granted. And it's also therapeutic when some assholes seem determined to be as hateful and murderous as possible.
Creating doesn't have to be monetized, it doesn't have to be a side gig. It's a natural human function performed in a hundred little ways each day. It's also a powerful way to say fuck you to those murderous, treasonous assnuts who like to poison themselves, not to mention the rest of us, with racism and violence.
I have a whole rant about how choosing that poison means throwing away their humanity, but now's not the time.
If you're utterly exhausted by all this, if you can't look away, if you can't seem to focus on much else, well, welcome to the club. Don't beat yourself up over it! It is an utterly reasonable response to this fuckery. And this is not a call for you to drag yourself forth and have to deal with one more thing. You don't have to make something right now. It's okay if you don't have the energy.
I'm just saying there are more cookies in the world than there were yesterday, because the Princess made them. People are making things, people are sticking together, lots of people are staying home to protect others during a pandemic and lots of people are trying like hell to do something, anything, whatever they can to make the world a little better.
We outnumber the racist, destructive, poisonous assnuts. We always have. The news is dire and the situation is bad, and (not but, AND) the human capacity to care and to create is so innate, so reflexive, that we're still making and doing and caring for each other despite that. It's natural and sane to feel overwhelmed right now. It's also natural and sane to make something if you've the urge and the energy. Both are okay.
That's what I'm clinging to, this first Thursday of 2021. There are more cookies in the world than there were yesterday, and once consumed they'll be part of us forever. It doesn't feel like a lot when I stare at the news, I'll admit.
It's still important, and still a comfort.
Over and out.