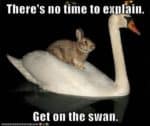 I am ruthless today, my friends. Or at least, I feel that way. My tongue is sharpened on both sides and I have absolutely no patience or time for "polite" obscurantism.
It could be a symptom of finishing a zero. I'm still not recovered, though I took a whole day off.
I know. A whole day, and I am still not fit for anything but staring at some bullshit before verbally skewering it. That, or crawling back into bed with a sippy cup of warm broth (or better, coffee) and consigning the entire world to whatever it chooses to do without me.
What I'll probably end up doing is walking the dogs, puttering through a bit of housework, and poking at a story that pleases me and only me. Like Wangsty Dracula, maybe, or the gunslinger.
…oh, that's right, yesterday was my midweek break from blogging! So you might not know I finished the zero draft of Sons of Ymre. It's much more romance-y than I wanted it to be; I was going more for horror. But at the same time, Erik is very much a verray parfit gentil knight; one would have to be to fight such monsters. At least, that's one way. I could have made him a right bastard, but I was tired of writing those.
For a change.
Anyway, I finished in a blaze of work, irritable because I'd forgotten to eat and resenting that I had to do such a mundane thing as feed my meatsack. I get into that mood every so often, where anything (except the kids) that takes me away from the writing–sleeping, eating, exercise, anything–drives me to vexation. I swear I'd get irritable at having to breathe if it wasn't a semi-autonomous function.
Remember that theory that humans had acres and acres of brain they weren't using, and if we could somehow unlock it we'd become superpeople? It's far more likely all that acreage is used for breathing, making the heart beat, and screening out the pain of digestion. I mean, think about it–your digestive tract is some of the most richly enervated bits of the body, indeed rivaling the brain. And think about what one puts it through daily.
If you shuddered at the notion, you're not alone–and sorry about that; these are things I think about, especially between books.
I plan on getting back into the swing soon with HOOD's Season Three and The Bloody Throne1. My attempt to work simply and solely on one project at a time is going to founder on the rocks of Actually Making A Damn Living In This Fucked-Up Industry, I can just tell. Fortunately I'm happiest when I'm switching between a few things, since I can use one project to make the other one envious and get them both to cooperate.
So much of adulthood (not to mention a creative career) is learning how to game yourself.
With that said, I should probably haul my carcass up and walk the dogs. They're bright and bouncy this morning, having slept much better than Your Ob't Narrator. Boxnoggin in particular spent a luxurious night spread over the bottom two-thirds of the bed, and I wondered why I woke with a crick in my back, neck, and both legs.
Dogs, man. Big furry toddlers, except with (mostly) more control over bodily functions.
Anyway, I'm trying to keep all my sharp edges to myself today, and I suspect I'll fail miserably before the day is out. I just have no patience for bullshit right now. I'll be back to my usual (relatively) sweet and (my God, you have no idea) restrained temper. I suspect if people know how often I want to run amok, they'd either scream and flee or solemnly, internally swear not to piss that bitch off.
Either would work. And now, away I go.
---
Oh, hey! It's the last day for the Free Agent February giveaway, so enter while you can! And it's also Subscription Day–Crow's Nest, Nest Egg, and Serial Time subscribers get fresh fiction in their inboxes around 2pm PST, not to mention Haggard Feathers folks get the Open Thread.
Book Three of Hostage to Empire