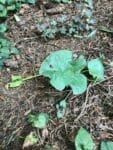 I'm in a positively dreadful mood this morning–indeed, I've been tetchy all week, for a variety of reasons. Maybe it's the heat, though it breaks at night to allow for sleep; maybe it's work, though I'm always happiest with a surfeit of that; maybe it's the state of the world. The Princess concurs, for she's been in somewhat of a mood too; she thinks perhaps it's processing a bit of last year's (and ongoing) trauma.
The body remembers, no matter what the rest of one would like.
Consequently I'm trying very hard to be kind, especially in small invisible ways. There is nothing better than performing a few acts of kindness to lift one's mood. Of course it's selfish–one should be decent simply because it's the right thing to do–but it's at least enlightened selfishness, and it will do. Or so I tell myself, and hope like hell it's true.
The damage from the heat dome is still rippling through plants in the neighborhood, and I'm sure through the animals as well. Some of the laurel volunteers I put along the back fence have crispy-crittered, and since the sprinklers are Having A Moment (someone will hopefully come by to diagnose them today) much of the yard is too. The tomatoes and other seedlings, watered by hand, are holding on; the pennyroyal that wasn't grubbed up by squirrels (WHY, for godsake?) is actually thriving. So there's a win or two lurking in the greenery.
Including the Zombie Rhubarb, which used to be near the lilac volunteers but was moved to a sunnier spot because it frankly refused to die even after the late, lamented Odd Trundles did his best to nest in it. I don't know what that dog had against rhubarb–maybe he simply knew it's not my favorite?
Still, I admire the plant's absolute refusal to lie down and die. That kind of stubbornness is near and dear to my heart, so I'm even watering the damn thing. It's flourishing like the hellebores now. I've told it flat out, "We don't have to like each other for me to do my best by you. Uh, sorry about the dog…"
I think it's forgiven me, despite Boxnoggin's desperate desire to water it on his own. What is it with dogs and rhubarb? I have no clue.
Anyway, the day is jam-packed. There's subscription stuff to get out the door, groceries to grab, dog walkies and a run to squeeze in, and damn it but I want these revisions done. Time to make a list on an index card, or I'll get absolutely nothing accomplished. It's a shame none of these problems can be solved by a machete, for I'm in just the mood to take a few swings. (Related: I really do need to get a wooden baseball bat…)
I suppose I should also get some breakfast, too. But before all that, it's coffee to soothe my nerves somewhat, and Josh Groban on the play queue to do likewise. Something about the vibrato is entirely calming.
I'm hoping Thursday will decide not to be overly difficult. But if it is, I'll get out the machete.