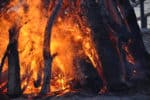 Got up, took Boxnoggin out, made coffee, built a fire. We have to use up those cedar rounds, after all, and it's cold enough. I'm feeling very Foxfire Books right now. I mean, it's not scrubbing the bristles off a boiled pig carcass, but it's something. (The dog, wiser than I, has already gone back to bed.)
I finished John Rechy's City of Night this past weekend. I can see why the book was so formative, especially for the non-Shakespeare bits of My Own Private Idaho. A lot of it rang very true; it's amazing how much street life doesn't change through decades. Of course, the experience of a male hustler is significantly different than that of a young girl, and yet the faces are absolutely the same. The beat is there, even if the music is variations. I kept thinking Rechy was what Kerouac so desperately wanted to be, but didn't have the courage (or the writing chops, the honesty, or the discipline) to pull off.
But we all know my feelings on Kerouac. Anyway, next up is Ibn Fadlan and the Land of Darkness, which feeds The Black Land's Bane, naturally. A great deal of the current trilogy was inspired (very loosely) by The 13th Warrior–though I never read Eaters of the Dead–while both 13th and Eaters rely heavily on Ibn Fadlan. There are even, I am told, great chunks of Eaters taken wholesale from translations, which shows that at least Crichton knew to take from the best.
The rest of Black Land is Tolkien, with a heavy dose of influence from Neil Price's magisterial work on Viking magic. No book ever springs from one source; many are the freshets and streams which make the river of a story. And I've got to get this elvish city sacked in the next few days' work, dammit. It's taken too long, I want falling masonry, flame, and swordplay.
Of course, I'll have to nurse the fireplace along until the kids are up to help. It takes a lot of strain off the rest of the heating system, plus the cedar is very fragrant. The sky is lowering and it smells like snow, though I'm sure we'll only get sleet as the next warm front pushes in. I hear there's actual white stuff (again) a few hundred miles north, but here the river often manages to keep such things at bay.
I mean, it didn't over Yule–that ice storm was something else, and the winds right after brought down the cedar we're burning now–but generally we escape real long-term cold. I'm sure many of the insect eggs burrowed into the ground to wait for spring are dying off, as well as the slug and snail eggs too. Which is a mercy; their numbers have been ravaging for a while.
It's about time to go feed the fire again. I can hear it popping happily from my office. At least the chill means there's a lovely draw up the chimney, and the ash, worked into compost, does wonderful things for the garden. Boxnoggin will yawn and mosey out as soon as I make a move toward brekkie, and though he'll complain the cold will also force both of us to move rather swiftly. Not a bad prospect, all told.
I'm not feeling well lately. I suppose it doesn't matter much. Putting my head down and simply enduring has carried me through worse. At least there's the fire, the winter light, and the prospect of actually getting some damn wordcount.
It'll have to be enough.