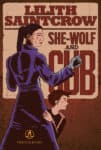 I promised myself I wouldn't start autumn's round of baking until the daily high temp became a comfortable mid-seventies1 or so. The forecast appeared good, I put together a starter while prepping the pot roast yesterday…
…and today the forecast has changed and the goddamn high is supposed to be in the eighties, just where I didn't want it.
Ah well. A little sweat is a small price to pay for the season's first bread.
Last night Damage finally dropped into its groove with a deep, satisfying internal click. One of the characters is a cagey beast indeed, and I had to wait just outside his mousehole for him to get interested and stick his nose out. Now I've got him, and the real work can start.
So much of this job is patience. Waiting, while frustrating, is often the most efficient strategy. If childhood didn't teach me that, motherhood certainly did, and writing's just sealed the deal, so to speak.
I also have to put together a short survey. I may cancel HOOD after only two seasons and shift to a different serial. It's sad, but the story is structured like a TV series and that might be a little too much for some readers. Sometimes when the audience numbers aren't there, one has to refocus.
So if you like Robin Hood in Space, be ready to say so when the survey comes around. Only actual Serial Time or Nest Egg subscribers will get a chance to vote, since they're the ones funding the whole deal.
I've the dogs to walk, bread to mix and set for its bulk rise–if I get it done early enough I might escape the heat later–and more of Damage to write. It's going to be a busy day, just how I like it.
And so, off I go.