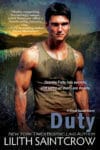 I spent the weekend dragging a dead series out of its grave. Difficult work, involving a lot of squelching and nausea–but what the hell, I'm sometimes a necromancer, it's all part of the game. At least I've done it before, most notably with Steelflower, so it's not like it's my first time.
The weather has turned with a vengeance. I can't believe it was 80F in October, and now we're edging down to heavy frost, nights lingering near freezing. The garden needs to be put to bed, but it's a Monday. I've other things to occupy me today–like said shambling corpse of a series, resurrected but not entirely rejuvenated. Frankenstein ain't got nothing on me, my friends.
I spent whatever time I wasn't heaving over my office wastebasket doing chores, and getting around 2k of the Jolene story written. Three organic mentions of that song means the Universe has decided it's time and I think I can do it in six scenes. At least that's the kernel of the story, and I can add more on either side of the high beats if the structure ends up needing it. I don't know why I'm being attacked by this short when I have a bloody shambling undead fantasy hulk to deal with and I really need to do a revise on the second Sons of Ymre, but if I'm not drowning in work I'm not really happy so…here we are.
I mean, nobody wants to see me with idle hands. That's a sure recipe for disaster.
The light has changed, too. While it was smoke-hazy and way too warm for October, any sunshine had an eerie apocalyptic cast. Not like the bad smokes the previous two years, just enough to make the little atavistic muscle right under one's occipital ridge tighten. Now the sky has paled and any sunlight is a thinner gold, especially when it falls on frost-laden roofs and the steam rises. The trees are merrily changing their leaves; next will come shedding them entirely. The ones falling so far are dry and spicy instead of wet-sludgy since the rains have given us a moment or two to think about things. I'd prefer rain, of course, but this is acceptable. Especially since the chill generally means I can run without dodging weird men on the sidewalk.
The only downside is that other dog walkers will be out in the clear light, enjoying the lack of humidity. I like that just fine, but Boxnoggin loses his damn head. I often have to pick him up by his harness-handle, scolding him. "This is why nobody wants to play with you…you're being a big bully…don't you feel ridiculous now? If you wouldn't scream you could probably say hello…no, screaming it is! Fine. Scream all you want, it won't change the outcome."
Poor fellow. Four-plus years of work have made him much calmer, but the instant he sees another dog (who isn't Bailey, since she put up with exactly zero nonsense from him) he turns into a screaming toddler. Some part of it is probably resource-guarding, but I think he's just one of those dogs whose circuits fuse at the slightest provocation. A squirrel, a cat, another dog, and his cranium is the equivalent of an action movie explosion. I have to walk away, grimly not looking while carrying sixty-plus pounds of writhing canine.
There are worse jobs. It's hilarious, I will never be as excited over anything as this dog is for the hose, a fleeing cat, or another dog friend. Or walkies. Right now he's got his nose pressed to my ankle and is huffing deeply, on the principle that this once got me off my office chair and moving brekkie-ward, so he's going to try it every time now just in case.
Monday is full of frost-laden light and the sound of delighted canine snuffling. My marching orders have been given and my sock is a little damp, so I bid you a pleasant adieu, my beloveds.