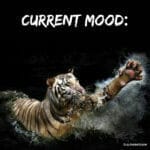 I am a rapidly thinning rope stretched between stress nausea, other health problems, and the determination to keep going. I joke a lot about stubborn endurance being my only real talent, but good gods it's painful. Being in publishing is like wielding Pullman's "subtle knife"–it always cuts the writer, and thought some people can make the wound better (looking at you, Beta Reader Who Just Gave Me The Strength To Go On, you know who you are) it never heals completely. The industry is set up to be tremendously exploitative of the people who are actually doing the damn work, whether it be writers (keep 'em below the poverty level!) or editorial assistants (unsung heroes working for peanuts) or or or.
Then you add in ebook thieves atop it, and…well. It's enough to make one despair.
If I don't look at my inbox I can actually get a day's work done, but that just means borrowing trouble. I suppose things will get a little easier if I can manage to finish a zero draft, either of Rook's Rose (which will bring Hell's Acre to an end and make the problems there revision instead of creation, always assuming I'm going to publish the duology) or of Riversinger and Minnowsharp, but the latter series is on life support and I'm fighting so hard just to keep it breathing I don't know what I'm gonna do going into Book 3.
The strain of the past few years is rather beginning to tell, I think. Shifting from crisis mode into attempting-to-heal, or even just a mode mitigating the damage, is tremendously difficult. I'm also watching the whole AI chatbot thing go down, which is big fun all the way 'round. I've taken to joking that I should label my work as "100% human extract, 0% AI content", which is HILARIOUS but doesn't solve any underlying problems.
Ah well. I have to laugh, otherwise I'll start screaming.
At least there's always Boxnoggin. One of his favorite games is burrowing under the covers in the morning; he's a terrier mix, and those positively love wriggling into dark spaces. (It's the rat-hunting they were bred for.) But, since he is a dog of Ritual and Habit, this has to take a very specific form. I must first wriggle under the covers, being completely covered and "invisible" to him–since he has very little object permanence–before crooning, "Wheeeere's Boxnoggin's-real-name? Where is he?" at specific volume and cadence.
I must also leave an aperture large enough for his snoot to discover, both because he cannot–despite trying with all his might and main–solve a puzzle if it's too difficult and because otherwise I will be suffocated by his enthusiastic efforts to do so against all odds, for if the puzzle is too complex the dog will apply his entire being, soul and body entire, to brute-forcing it. So I have to make the hole just large enough, and help him while he flails desperately to get into the Hoomin Sheet-Cave.
Once he arrives there is a positive explosion of joy, licking my nose and everything else he can reach, before he curls into a tight ball, waiting for me to arrange the covers just so. Then, with only the tip of his cold wet nose exposed to the outside air, he promptly hits his canine snooze button and is out for as long as I can stand being still. Afterwards he is amazed–AMAZED, I tell you–when I finally struggle out of the wreckage, because he has forgotten the rest of the world exists. And I start the day laughing, because dogs, man.
We don't deserve them.
I suppose I'd best finish the coffee and get something solid in me; said canine doofus needs his ramble and I will explode if I don't get a run in. Being trapped by the weather, lacking exercise endorphins, is not doing me any good at all. I have the next scenes needing to be written in both projects currently on the burners prepped, and half the weekend is going to be taken up with proofreader queries. I just knew there was going to be one more kink in the production hose for these particular works; when one sets out to write about divinities of any stripe, one invites such things.
There are bright spots, even in the current mess. It's hard to focus on them, yet I keep trying.
Endurance has to be good for something.