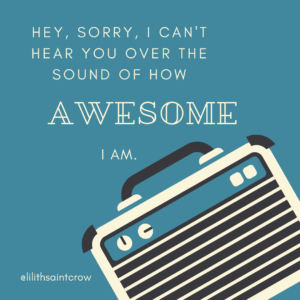 Was banging my head against Riversinger and Minnowsharp last night. I know I'm close to the end, I can feel it, but the scene just wasn't cooperating and I couldn't scrap it entirely. I threatened, grumbled, stared at the screen, paced my office, tried a bit of the t'ai chi video I'm attempting to relearn the movements from. (Long story, another blog post.)
Nothing doing. Absolutely nothing fucking doing, and Introvert Me is drained from all sorts of socializing in the past few days. So I finally threw up my hands, decided I was the worst writer in the world, and went to bed early. I watched an episode and a half of a Chinese costume drama, read some of Gosden's History of Magic (Genji is irritating me, so it was time for a break), and turned off the light while gnashing my teeth.
And then, this morning, while Boxnoggin was attempting to wedge his nose more firmly into my armpit and my sunrise clock was just beginning to glow, the missing piece of the damn puzzle sashayed into my head. Either a passing spirit took pity on me, the Muse had enough fun and decided to stop fucking around, or my subconscious could finally get through the static. Can't guess which, don't care, just glad I've got the goddamn scene now.
The only thing remaining is to write it. After breakfast and walkies and running my corpse, during which I'll turn the whole thing over and over inside my head, planning and looking for weak spots. I did think I'd get at least one zero draft done this week, but it doesn't look likely. And the weekend will be spent with copyedits which do rather need to be addressed even with everything else going on.
*sigh* It's always something.
The Attempting To Be Kind To Myself experiment continues apace. Part of that is not agonizing over using the block button. As Cory Booker so memorably put it, you don't have to attend every argument you're invited to. And I don't have to put up with annoying randos, especially the "I didn't bother to read the article you linked and I have an objection (covered by the article itself) that I DEMAND you answer" ones.
There's all sorts of stuff happening–publicity requests for the Spring's Arcana release, household purge-cleaning to do, this business thing and that business thing, nervously anticipating tax season…honestly I don't even have time to walk into the sea, though the thought of disappearing into a bog and only returning to town every six months with a new manuscript to send in sounds marvelously enticing.
I'll feel better once this zero is done, and once these goddamn copyedits are off my plate. It's hard when one feels nobody else in the room even likes the series one has spent so long polishing, let alone is excited about it. Ideally the books would have at least one other advocate; unfortunately that seems impossible under current conditions. I have to believe in the bloody story thrice as hard to make up for it–which is a masterclass in being kind to myself, I guess.
I would have liked some more time on easy mode, but the universe has a vastly inflated idea of my capabilities. Fortunately stubbornness–and a little spite–might be able to compensate.
After all, I've come this far. Believing in myself just a wee bit might not be a bad thing, and is perhaps even warranted.
We'll see.