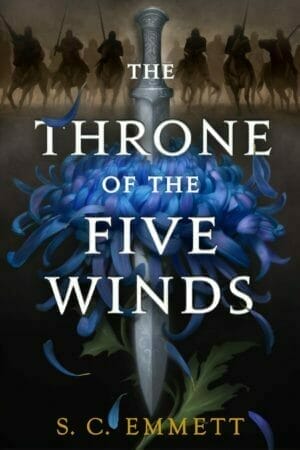 Good morning, happy Monday, and whew.
Throne of the Five Winds is a Kindle Daily Deal ($2.99USD) today. If you like intrigue, battle, pretty dresses, hairpins, assassinations–well, who doesn't? And there's a whole lot of all those things in that series.
---
In other news, I am typing very slowly because my left wrist is rather swollen and there are gouges on it as well as the back of my hand. People, leash your goddamn dogs. I don't care how friendly you think they are–Boxnoggin definitely is not. My dog doesn't step outside without a harness that puts Victorian-era straitjackets to shame, because he can't be trusted and I have to make good decisions for him. Letting your pooch wander into traffic or, gods forbid, wander up to mine and start some shit only ends poorly for us all.
And that's all I'm gonna say about that.
We had a few sunny days; now the rain is back. Everyone was out in their yards and gardens celebrating false spring the past few days, and even I got a few things trimmed and tidied. But it's back to being grey and dull, drippy and mossy; I'm thrilled. This also means the sidewalks will be thinly populated during walkies, which is a blessing since I only have half the usual number of hands to deal with Box's shenanigans.
He's a good dog, and he wants to be good. Unfortunately he also has zero self-regulation and a whole lot of ideas just bright enough to be incredibly dumb and dangerous. Why Bailey chose him for a companion I will never know; perhaps she wanted another dog she could do the thinking for since she had such an excess of mental horsepower–Max (Odd Trundles), bless him, could forget to breathe and had to be reminded, which was one of Bailey's self-chosen jobs, performed with zest and glee.
Don't get me wrong–Boxnoggin's entirely loving, and goofy, and a darling. I just wish he were a little less enthusiastic when I'm wounded. Ah well.
Dawn is coming up, the firs are dripping. I miss the cedars along the back fence–well, there's no fence there either, but that's a complaint for another day as well. There are copyedits to get through and various other bits and bobs to accomplish today. I'd best get started, since I'm moving at about half speed.
See you 'round.