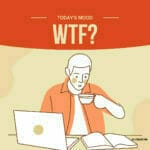 Snow is still lingering in patches, but I'm betting the pavements will be much clearer. We had bands of snow and sun yesterday, the weather unable to decide what it wanted and my sinuses throbbing like a particularly dedicated marimba band. Boxnoggin will be very happy for a longer ramble; yesterday's had to be cut short because of his tender paws, albeit not nearly as short as previous ones where we barely got halfway down the hill. And forget running outside, despite my hopes! It was the treadmill or nothing.
The yard is still a shambles. That's a problem for another day. Week. Month. Whatever.
I'm slowly getting my fire back under me. It's difficult, but there's a light at the end of the tunnel. If I can just get one particular problem sorted, my productivity will skyrocket. Unfortunately that problem is one that has developed over multiple years and I'm going to have to wait a wee bit longer to get it done up–assuming anyone will listen to me, the person actually doing the work, about what's necessary to fix it.
I'm not sanguine about that. I suppose part of my hesitation could be a persecution complex, but is it really a complex when the entire industry's set up to be exploitative? I dunno. I'm bracing myself to be ignored or derided once more, which is hardly the most productive mindset for problem-solving. I recognize this, yet there's only so much battering even the sunniest optimism can take before it goes underground and leaves cynicism, not to mention apathy, to guard the doors.
On a (much) brighter note, I was pleasantly surprised at a throwaway name in Hell's Acre turning into a really satisfying (to me) character homage. (Look, I love Jason Statham, all right?) And Sevring the valet has become a quite crucial minor character, which I never expected but is quite useful as I'm tying things up and getting ready to write the climax. I still don't know who's going to win the combat scene I'm currently constructing, so I'll probably be blocking it out mentally while Boxnoggin prances. I mean, I have plans no matter who wins, but I really would like the valet to catch a break…even though he's far from decent, being the Main Antagonist's henchman. If he ends up dead it'll be tragic.
I suppose I'll have to write it and see, but that can't happen until the dog is walked and certain other chores are Taken Care Of. Already this morning I've done the last few pronunciations for an audiobook, started some email threads, finished others, and dear gods I need more coffee, I'm just not caffeinated enough for this.
At least there's beer mugs used as weapons and a bit of close-in knife combat. My only regret is that the setting precludes me adding motor oil to this particular scene. Ah well, we can't have everything, especially on a Tuesday.
Time to get to work.