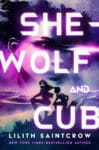 I know I said I wouldn't do a sale post for February…but here we are.
She-Wolf and Cub is back as a BookBub deal! I'm not sure how long it will be on sale ($1.99USD from several different retailers), so I'll keep checking. You can also follow me on BookBub, if that's your jam.
---
In other news, both The Complete Hood and The Complete Roadtrip Z are part of the Kobo February 25% of Boxset Sale. Just enter the promo code "FEB25" at checkout for the discount, from now until Feb 28th.
---
It's not quite a sale, but you can catch a free excerpt of the upcoming Spring's Arcana (releasing in May) on the TorForge blog. Just click and read!
There will be a few more sales, I think, and when they hit I'll post 'em right here. But for now, I've got to get back to work…