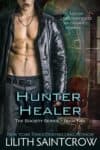 It's time for another Soundtrack Monday! Today the track is Franz Ferdinand's Take Me Out, which I listened to obsessively while writing the casino shootout in Hunter, Healer.
Especially the part where the singer croons, "I know I won't be leaving here…with you."
I enjoyed writing those books, especially the callbacks to X-Men fanfic–which I started out writing very young, in spiral-bound 5-subject notebooks. One of the last real conversations I ever had with my beloved grandfather was about exactly how to put together a Molotov cocktail, and Delgado uses some of the things I was told that particular summer evening.
Everything goes into the work, my friends. Everything.
I sometimes get asked if I'll revisit that particular piece of the universe that holds the Watchers series, then the Society series, then Selene and finally, the Danny Valentine books. (Yes, they're all the same timeline.) I could go back to the Society books, true, but it would mean a couple character deaths I don't really want to write, so it's probably best to just leave it be. Del's happy where he is, Rowan can use the time to heal, and while I know what happens I don't have to prod either of them towards it.
Anyway, if that particular shootout is ever filmed, I'd want it to be set to this track. You can almost hear the point where Del decides to go nuclear on the whole deal. He's not a very nice person, but he's an effective combatant indeed. Play to your strengths, and all that…