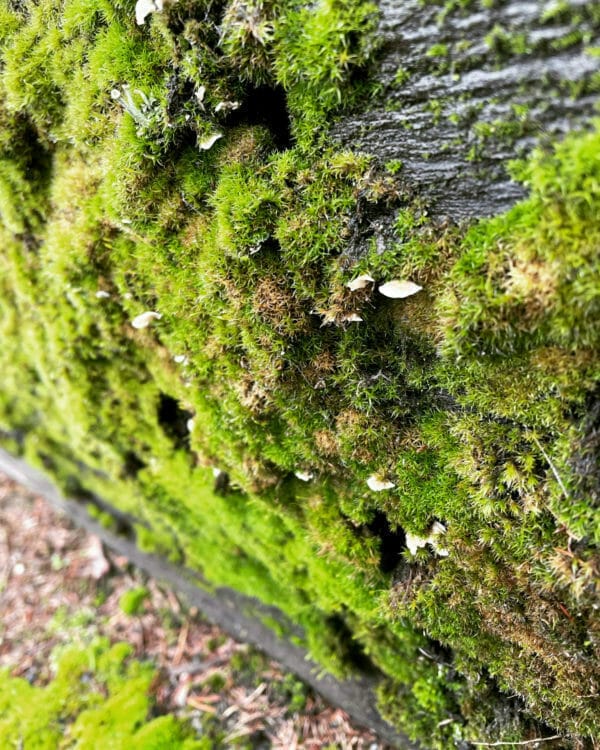 ---
I've been obsessed with moss lately. I mean, I already liked it, but then there happened along the #Mosstodon tag on the fedi. (There's also the #LichenSubscribe tag, which pleases me deeply, and let's not even talk about the donkeys.) So I've been happily taking pictures of winter velvet, no doubt also pleasing a few botanists and biologists curious about such things.
Heaven knows there's never any shortage of moss around here even in summer, though it does tend to get a bit dry and crackly. I won't run out of subjects to point the cell phone at, that's for sure.
I finally wrote the river race that's been knocking around in my head for over a year, and today I get to set up the destruction of an entire elvish city. The elementalist does need to have a chat with the king about his parenting methods before then, perhaps; I'll get there as the story–and the Muse–wills.
One of the things I love about moss is that it grows in places no other self-respecting plant would find even remotely acceptable. It creeps into cracks, feeds on detritus, covers the garbage left behind. Hell, it'll even grow on bare rock, especially if its best bud lichen is around. Moss takes adversity as a challenge, like Bugs Bunny takes a thrown gauntlet.
Anyway, this crop is merrily growing on a creosote-soaked railroad tie repurposed to hold back perhaps-contaminated topsoil. It fries in summer and drowns autumn through spring. The locale is terrible for any living thing, but there's the moss, happily soaking its wee roots, lifting its many green fingers. Some has spread to the rocks and small chunks of concrete below, because even stone is friable when you've got the sort of time moss does.
One can learn a lot from dear old Bryophyta. And with that happy thought, I wish you a pleasant weekend.