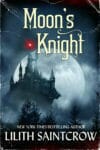 Remember lockdown? I know, how on earth could we ever forget. We all had our ways of coping. Mine was…to write.
Big shocker, I know.
I was occupied with paying projects, sure. But there was a story that just wouldn't let me go–an image of a blood-red, massive sun hanging in a tired sky over a giant castle, its stone walls fraying as the will keeping it whole faltered. The vision kept returning, and I knew someone was about to go through a door and find themselves near the structure.
And so I started writing Moon's Knight. The story burned through me hard and fast, every waking moment I wasn't occupied with survival or other projects eaten by its hungry flood. And while I was writing, Sam Tinnesz's The Hunter burst into my musical algorithm. It was quite fortunate, because the song fit "the prince in black" perfectly. By the time I first heard it, I knew the basic dimensions of the story, I knew Ginevra Bennet was the woman stumbling through the door, and I even knew who the traitor could be. (It was a choice of three characters, and I was surprised as anyone by the time the zero draft was finished.)
It snowed this past weekend, which made me think of the book's opening, Gin's drunken stagger ending at a door in the ivy, and naturally I had to listen to the entire soundtrack again while doing my weekly housecleaning chores. And I also peeked at some of the scenes from the book again, particularly the Whispering.
It's not a bad little book, I think. My agent–and several beta readers–said it should go out into the world; if it provided me with a little relief from the terrible uncertainty of those days, it could perhaps help someone else. I'm a sucker for that kind of argument, and of course my fabulous cover artist went super pulp with its jacket.
Every time I hear The Hunter now, I think of the prince in black, the terrible cat-creature he rides, and his take-no-prisoners loneliness. He's rather a pitiable figure, silver fingers and all; astute readers will recognize both the Wild Hunt and more than a tinge of Hades and Persephone in the tale.
I suppose he received the ending he deserved. I think everyone in the story did, and that pleases me. Even if some pearl-clutcher had a problem with Gin's language.
But that's (as always) another blog post.