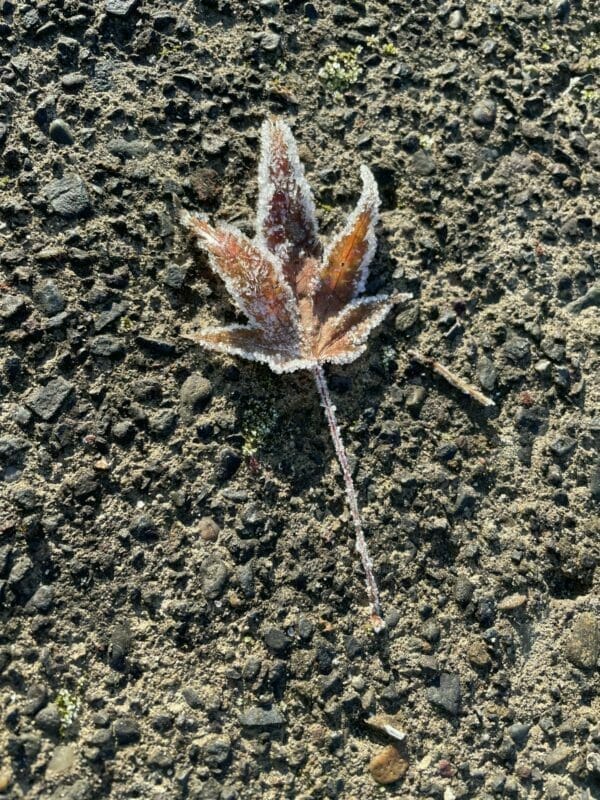 ---
I am generally neutral on Disney movies, but I always loved Fantasia, especially as a child. My favorite part, bar none, is the ice fairies near the end of Tchaikovsky's Waltz of the Flowers, and every time there's frost I'm happy thinking that the little winged beasts have been at it again.
We had the exact optimal weather conditions for a hard frost yesterday morning. Boxnoggin was particularly thrilled with the park; he snaked along, head down and nose buried, chuffing to clear his lips of frost every once in a while. I was afraid he'd hurt some tender facial tissues, but apparently he considered it all a good time. The sun striking hard surfaces raised steam, so the entire world was jeweled and gilded.
This little fellow was resting on the sidewalk. I like to think a particular ice fairy spent time decking it out, becoming absorbed in their work and feeling a great glow of satisfaction. Yes, I know it's merely atmospheric conditions and mathematical expressions of frozen water. That's just as cool, I simply like the mental image of ice sprites better.
The entire universe is alive, and so are we. Which is a nice thought to take into the weekend.
See you on Monday, my beloveds.