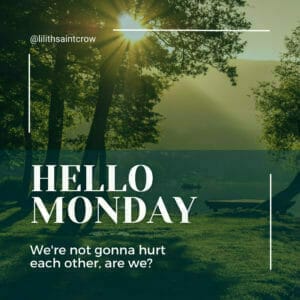 Working through the weekend means Monday arrives a little before one's ready. Though I did take half Sunday off to do chores, bake bread, and get a coq au vin in the oven–which made the house smell glorious indeed. An evening on the couch listening to gamelan music and reading the back half of a Murakami novel (Kafka on the Shore, the subject of last week's Reading with Lili and Great Chapters) was exactly what I needed, too. I hadn't visited that particular book since 2014, and a lot of temporal water has gone under the bridge since. It's been a recuperative experience and I'm looking forward to polishing it off entirely tonight.
But first I need to get through a full day's work, what with the serial and Cold North revisions. The latter need the bulk of my time now, since I should turn them in before the new year.
In the "very good news indeed" column, the recuperative period for running injuries has passed and I can start building mileage again, which is a gat-damn blessing. I need those endorphins. It's the dark half of the year and holiday strain is mounting; balancing all that out with some sweat and purging of the unpleasant stress chemicals will help me keep my footing. Plus it's nice and grey and gloomy, so the sidewalks and road-margins are largely mine again.
Oh, there are other people out even in the worst weather. Some dog walkers, plenty of other runners, the occasional bicyclist or seven1. But the aggravations of summertime–ambling middle-aged men taking up all the space and attempting to stop me to chat about the weather, assholes with unleashed dogs making problems for everyone, Karens sashaying from one side of the space to the other while yelling into their phones–go elsewhere when the rains descend. Every year I breathe a gusty sigh of relief when the weather turns, and not just because it's my most productive time but also because the road clears.
There'll be a glut of new exercisers on the path just after New Year's, slowly trickling down to those who have managed to make an actual habit somewhere near the end of March. But for now, as the year wends to its darkest point, I'm often alone while running.
And I like it.
In a few days we'll haul out the tree and decorations. I have not been Whamageddon'd yet, but when I go for last-minute feast prep and to pick up some cheap crockery for smashing2 I run the risk. Either I'll get to Boxing Day having won Whamageddon or Whampocalypse3, so it doesn't matter. My writing partner and daughter are already well in the latter, and enjoying it muchly.
Speaking of Boxing Day, the Winter Portal Fantasy Sale is still ongoing. After that I'll take a break from sales for a wee bit.
I've had a great deal of synchronicity lately; it seems like the universe and timeline are attempting to heal, plucking at seams and Franken-stitching stuff together. Another blessing, frankly. I don't think I could handle much more of everything being out of joint, as it were.
The coffee is at its dregs, my office is cleaner than it was before the weekend, Boxnoggin has not yet trotted down the hall to roust me for breakfast but that will certainly happen before much longer. I suppose I must embark upon the week. It will happen whether or not my coracle is caulked, so I might as well commend my soul-craft to whatever gods look out for weary writers and push away from shore.
Here we are, my beloveds, and time floods onward. Let's check the wind, set our sails, and get to it.