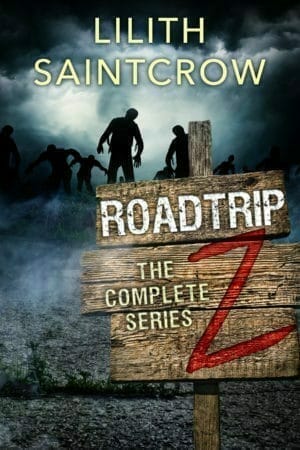 In honor of enduring three years of this bullshit–and in honor of the recent spookytimes funfest–The Complete Roadtrip Z will be on sale in ebook for $8.99USD all through November! That's all four seasons of the hit serial (funded by my beloved subscribers, whom I thank) for the price of one.
The Complete Roadtrip Z
Cotton Crossing was a dead end, but not for Ginny Mills. She's just marking time, getting experience in the county library system, before moving back to a decent urban environment. Then the phones stop working.
Lee Quartine knows there's no way the pretty girl at the library will even look at him. Especially since he can't open his mouth. He knows he's a hick, but when the power starts going out and the woods are full of strange creatures, it's good to have someone around who can build a fire. And kill.
Ginny and Lee and their small band of survivors can't stay put, and moving is dangerous. The infected are shambling in the hills and the concrete canyons of cities.
It's gonna be a long trip…
---
Not only that, but my latest release is Duty, the second in the Ghost Squad series.
Duty
After nearly dying on his team's last mission, Paul Klemperer is heading home for the first time since signing up for the Army. His hometown's grown a little. The inhabitants are older. And life has moved on, but some things are still the same. Like the way he feels about the girl he left behind—who ended up marrying someone else.
Beck Sommers has a divorce in the works; if she can just hold on, she'll be able to leave this godforsaken town. Unfortunately, her soon-to-be-ex-husband has other ideas. Her first love Paul has returned as well, making things even more complicated. And then there's the corruption, the drugs…and murder.
Beck's determined to fix what's gone wrong, but she has no idea how deep the corruption goes. And Paul? Well, he's a little behind on the local news, but one thing's for sure—he's not letting Beck get away this time.
First, though, he'll have to keep her alive…
If you're interested, the book's soundtrack is here.
---
And if you're in the mood for a VC Andrews homage, That Damn Werelion Book is now available too. November's certainly a crackerjack of a month around here and there might be even more, so stay tuned…