This week is going to be a rollercoaster, my beloveds–Twitter is melting down, the US midterm elections are tomorrow, wild weather, the ongoing revolution in Iran. I feel kind of weird talking about my own stuff with All This going on…but I must, and I have something very pretty for you indeed.
---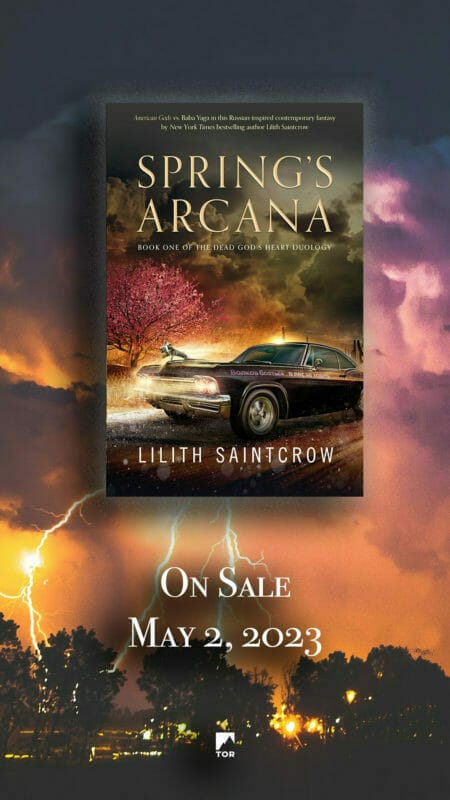 That's right! Spring's Arcana–the Baba Yaga/John Wick/American Gods duology I was talking about last year, and earlier this year–has a cover now! Look at how beautiful, my beloveds. Want to hear a little more?
---
Spring's Arcana
Nat Drozdova is desperate to save a life. Doctors can do little for her cancer-ridden mother, who insists there is only one cure―and that Nat must visit a skyscraper in Manhattan to get it.

Amid a snow-locked city, inside a sleek glass-walled office, Nat makes her plea and is whisked into a terrifying new world. For the skyscraper holds a hungry winter goddess who has the power to cure her mother…if Nat finds a stolen object of great power.

Now Nat must travel with a razor-wielding assassin across an American continent brimming with terror, wonder, and hungry divinities with every reason to consume a young woman. For her ailing mother is indeed suffering no ordinary illness, and Nat Drozdova is no ordinary girl. Blood calls to blood, magic to magic, and a daughter may indeed save what she loves…

…if it doesn't consume her first.

This is the way to the Dead God's Heart.
---
I'm really excited; this series has had somewhat of a bumpy ride to publication. Well, they all have bumpy rides, even in times of less historical uncertainty, but this one felt a little rougher than most. And Book 2 is right around the corner…
…but I can't say anything about that yet.
Yet.