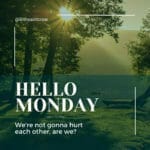 Boxnoggin has decided to go back to bed. Apparently a Monday is too much for even his spirit, and the leftover warmth is simply too enticing. Alas, I am forced to coffee and actual consciousness–or whatever approximation of the latter I can manage.
I spent the last of the weekend finishing Rebecca Suter's The Japanization of Modernity, all about the work of Murakami Haruki. Consequently I think this week's Reading with Lili will be about Murakami's fabulous (in every sense) Hard-Boiled Wonderland and the End of the World, which I haven't read in a hot minute. I was going to do Nancy Price's Sleeping With the Enemy, but that can wait.
Price's book got me through some rough times. I didn't manage to see the movie until five or six years after I'd actually read it, so the two are only vaguely connected inside my head. And every time I water my African violets, certain bits of the book wander through my head.
It's nice to have a plan–to have more things I want to share. I don't think I'll ever run out of cool books to talk about; it's far more likely troll comments will make the entire project unsustainable, or the platforms I use for streaming etc. will burst into flame and sink into the swamps of corporate malfeasance.
I am also (apparently) a giant optimist this morning.
There's work cut out for me today. Correspondence, figuring out the next step in Hell's Acre, prepping for a big revision push–plus some copyedits–once December 1 hits, and a million other things I haven't looked at the to-do list for. I know I'll feel better after I get a run in, but at the moment my internal engines are catching and sputtering a bit. While I love the weather this time of year, I absolutely despise "the holidays", and bracing myself for them is never pleasant.
The coffee has cooled, I feel like I've typed very little of real importance, and even though Boxnoggin loves the shelter of a warm bed he'll be off-kilter all day if I don't drag him out for walkies. You'd think a dog who protests so much over any deviation from routine and habit might be eager to get out the door no matter the state of the outside world. I can't really blame him, though. I'd be back in bed if I didn't have so much to get done today.
Or if not "done", at least stabbed twice and left with a promise. I'd really rather be working on the bloody fanfic, but paying projects must when the devil drives, or something.
Yeah, I'll definitely feel better after a run. Already this morning I've bandaged a minor injury that will make said run somewhat of a misery, but I need the sweat and endorphins too much to care. At least the laundry's done, the plants are watered, and someone else is in charge of mopping the kitchen. Damn near a holiday, right?
Courage, my friends. I think I'm at the nadir of my detox from Twitter, and the next few days will see a marked change in both my mood and my productivity. All I have to do is stick today out; I hope your Monday will be similarly endurable.
Wish us both luck, my beloveds. Let's get this bitch to Mount Doom.