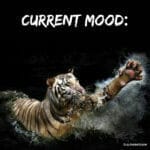 Hauling myself out of bed today feels like a mistake, but the revisions must be done. I'm tired of going through moderation queues, yet the alternative is missing the reasonable comments from perfectly nice people. Being overwhelmed by work is uncomfortable, but vastly preferable to having none at all.
In short, there's just no winning today. At least the house is quiet and the coffee is good. Once the caffeine sinks in I'll feel loads better, and once the rains start again I'll be all right. Everyone gets tired; the trick is to keep breathing and swimming for shore even when the agony hits.
I suppose my current doldrums are also a function of enduring three years of pandemic with no end in sight, not to mention screaming myself hoarse about the rise of fascist dickwads and being ignored on both counts. I suppose I would have to be much more worried if I didn't feel like the low end of the pool under these conditions, but knowing that intellectually and finding any comfort in the knowledge are two very separate things.
At least there's always the stories. Cold North is chugging along, and once I get this revision done I'll be able to work on the serial, revise the second Sons of Ymre, and get the second Black Land's Bane book seriously underway. The last will be late, but I've hit every deadline through the pandemic so far and I think after three goddamn years of this bullshit–plus the fact that I literally couldn't start the second book until the first had been revised at least once–grants me a bit of grace. I loathe being behind, I dread and positively hate missing any kind of deadline, and yet if I was hearing this from another writer in my position I'd be telling them to take a deep breath and try to focus on what's been accomplished even through enduring historical events and Interesting Times.
It's just all so exhausting, and I woke up this morning even more tired than when I'd gone to bed. I'm pretty sure it's just a wave, that the feelings and exhaustion will pass over and through me. When it's gone I'll turn the inner eye to see its path, and all that.
It would help if I could run. I'm stuck on easy, very slow 2km stumble-staggers while the wounded ankle is slowly strengthened and brought back to full function. The lack of endorphins from a good bruising session of hauling my corpse along at what passes for high speed probably feeds into the sense of despair. At least the multiple-mile rambles with Boxnoggin help somewhat, even if they are only at hobbling pace. By the end of walkies he's in a grand mood, and so tired he's well-behaved for the rest of the day.
Silver linings, and all that. Tuesday is looking like an uphill slog all the way, my beloveds. If you're feeling the same, try to remember we're (still) enduring a great deal, there has been no respite, and it's perfectly reasonable, not to mention sane, to be a bit tired amidst All This.
Just keep holding the line. Some days, that's all we can aim for. I suppose I'd best get started; the coffee is cooling and a certain square-headed canine has just pranced down the hall, anticipating that soon I'll make a move toward toast. At least he's having a grand time, and I can feel a bit of vicarious joy.
It'll have to be enough.