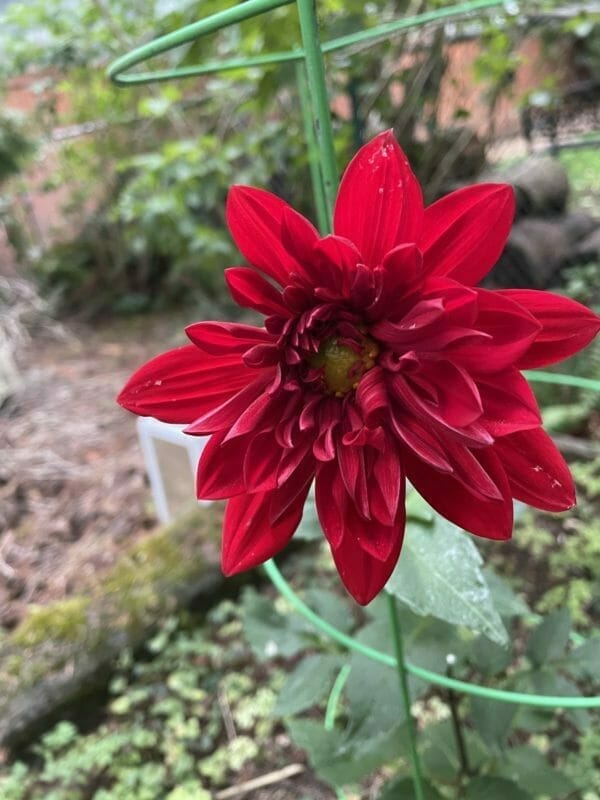 ---
Due to climate and other conditions, I cannot grow tomatoes no matter how hot the PNW summer is. It irks me, but I've decided to grow what I can–always the best course of action. At least the lemon balm and mugwort do well, especially once the latter gets established. And you know what also grows well here? Dahlias.
So I splurged a bit on a few bulbs, and my efforts have been rewarded with one lovely flower. The rest have plenty of greenery and are preparing to flower next year, I think. I have just been telling them how happy I am to see their leaves, and using the tomato cages or wire hoops to keep them (and the roses, and the peonies) off the ground. So far everything's doing well. I can focus on getting the laurel and holly volunteers where I want them, babying along the lilac ones, and cogitating on perhaps turning the front yard into some kind of native pollinator space instead of lawn.
A garden is always a work in progress, rather like a mind. If one thing doesn't adapt and grow, well, time to plant another. The whole thing got a lot easier once I decided, "well, if weeds are the only thing I can keep alive, by golly I'm gonna grow the best damn weeds in the county." It frees one up to do so much.
Not that I'm implying dahlias are a weed. They're nice and hardy, and by this time next year I'll have more flowers to admire. Plus the roses will have settled in after being moved, and with a bit of spring pruning will come back twice as strong. (And twice as thorny.)
Happy Friday, my beloveds. Remember to relax and grow what you can.
The rest is Ma Nature's problem.