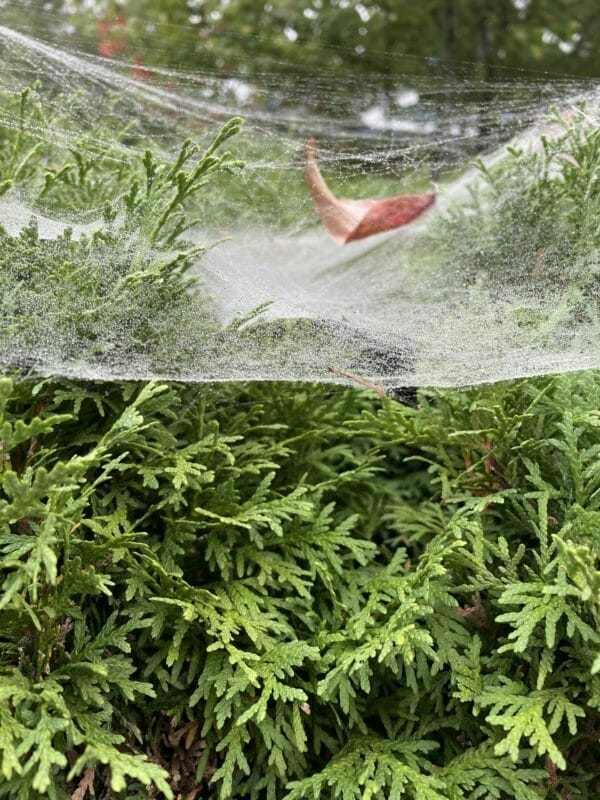 ---
Tis the season for misty mornings, which means these spiderwebs stand out amid evergreen foliage. There's some polyester knockoffs (Halloween decorations) in the neighborhood, but it's easy to tell the real from the decorative. I often feel like I should remove twigs and leaf litter, but never do so because that's probably verisimilitude for the poor spider, who's just trying to get some lunch.
I've had well-meaning strangers interfere while I'm hungry too, after all.
I have revision brain–Cold North is just about ready to go back to the editor, squeaking right under the deadline wire–and a bad case of exhaustion. Despite that I am looking forward to this week's Reading with Lili, which will be about Mina Murray, Lucy Westenra, the ladies in Dracula's castle, and Victorian misogyny. (It'll be on Twitch first, YouTube later, as always.) I have an inbox full of stuff for The Dead God's Heart and the preorder rodeo that is Duty as well, so that's got to be dealt with before I can knock off and maybe take a day or so to breathe. (And watch more Love Like the Galaxy, which I am currently low-key obsessed with.)
Before that, there's walkies and a slow, short, easy run to get my wounded ankle back into the game. No mist this morning, yet I'll smile at every spider-house.
I wish you a wonderful weekend, my beloveds. Be gentle with yourselves, and each other.
Over and out.