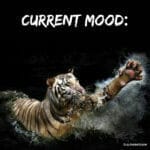 My body is taking vengeance for atmospheric conditions neither it nor I control. The heat's broken–at least, the really terrible stuff has, there's still the garden-variety summer terrible to deal with. But that's fine, it cools off at night, and in a couple days I'll have fully bounced back.
At least, that's the hope. I'm keeping coffee down, which is a blessing and a half. Attempting to deal with all this sans caffeine is an unpleasant prospect at best.
Today's the official day for That Damn Werelion Book's paperback release. Amazon's still listing it as "preorder" even though the release date is August 2. Ah well, it wouldn't be a book release without some giant headache. In my more charitable moments I ascribe it to a lot of moving parts having to be just right. In the less-charitable, well…the less said about that, the better.
I managed a reasonable amount of work yesterday, and have high hopes for today as well. It's akin to watching a jumprope as it rises and descends, catching the rhythm, and jumping in. The next scene in Hell's Acre wanted to be written dialogue-first, so now it's a matter of stitching around what the characters say, adding action and description tags to make clear how they said it. In certain cases I want the emphasis clear, in others the reader must supply their own. With that done I can also start building on the groundwork for the heroine in the second Sons of Ymre to figure out things in the temple aren't what they appear to be (and now Prince's Thieves in the Temple is playing inside my head) and the "hero" needs a bit more grinding into the dirt before I've forgiven him.
He was a total jackass in the first book, after all.
Boxnoggin is very happy this morning. In the first place, the windows are open and he can trot from place to place, getting a good snootful of a dawn breeze. In the second, it wasn't gasping-hot last night, so I wasn't as restless as I've been and he got more than the briefest of snuggles this morning. His walkies won't be a misery, either, which is all to the good.
I have the strangest feeling today is Monday since yesterday was so physically miserable as to blur into a smear. I don't quite dislike Mondays–they get a bit of an unfair reputation, being the first day back after weekends and all that–but I really don't want to suffer them twice a week. Once is plenty. I have to keep glancing at the top of my screen to verify that yes, it's Tuesday. Perhaps it's my brain cooking from the weather.
The sun has reached a gap in the cedars, filling my office with summer gold. The particular quality of light in different seasons has always fascinated me, as well as the difference between, say, a hazy light-blue summer sky (you can tell it's going to be hot and there's no rain in sight) to the aching, piercing deeper blue of autumn-on-the-knife-edge-of-winter. A pale thin gold of sunshine in winter is distinct from the heavier, richer light of certain fall afternoons, and the rain-washed blue of spring sky seen between heavy clouds is in a class all its own. There are things to love about each and every shade.
In fact, I've been gazing out the window so much, enjoying a cool morning breeze, that this has taken a bit longer to write than usual. My coffee is tepid now, and Boxnoggin is waiting patiently for me to make some toast since that's the next step before walkies. I might even keep said toast down, as it's not still sticky-hot and humid. The only way to find out is to finish this, bolt the last of said coffee, and get started on the day.
I just had to check again to make sure it's Tuesday. I can't decide if this bodes ill or means I have an extra day's productivity stored up in my fingers, waiting to be unleashed.
Suppose I'd best go find out. Wish me luck, my friends, and I wish you a pleasant (and hopefully temperate) day in return.