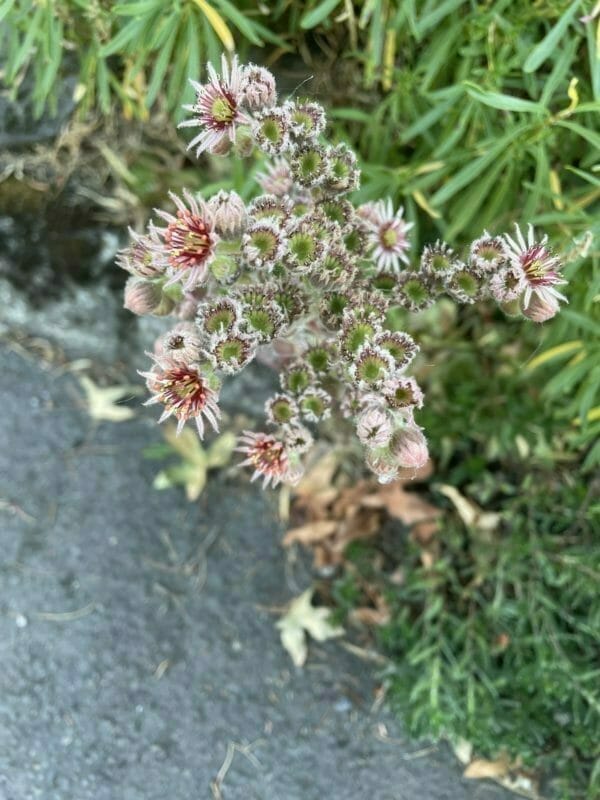 ---
Boxnoggin and I found these fellows on morning walkies. I love it when succulents bloom; they always look so alien. They make me think of the Cambrian Explosion, which I really should use in a story–Daisuke Igarashi did in Witches, which I just read recently, too.
It's August, and though we're about to have another bit of awful heat the mornings hold just the faintest tinge of ripening harvest. I can't wait for the rains to move in, though I'm sure Boxnoggin will be miserable when they do. Being from Texas, he enjoys the heat, but only until it reaches a certain pitch because he's been with us in the land of damp and grey for four years now.
We just passed the anniversary of his homecoming, in fact, celebrated with treats and cuddles. To him it was just another day since he regularly gets a plethora of both. I mean, he wouldn't turn his nose up at more, but he seems aware he's got a pretty sweet deal going here. (Even if we won't let him have a cat of his very own.)
I'll perhaps see you at tea this afternoon, but if I don't I wish you a pleasant, tranquil weekend. I hope it is precisely as quiet or as exciting as you prefer.
Over and out.