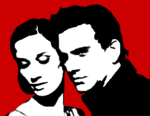 It's going to be a deadly warm day, so I'm up early. Heaven knows how long this will last, though Boxnoggin is extremely happy about this turn of events. Anything that gets him to a ramble more quickly is good, in his opinion, even if it is a minor change in routine. I suppose it helps that the wake-up routine doesn't change even if the time does–roll out of bed, take Boxnoggin out, Boxnoggin's brekkie, Mum's coffee, Mum staring at the glowing box, a bit of toast, then and only then glorious walkies.
He's very ready.
I also woke up with Frou Frou's Breathe In playing on the ol' skull radio. It's a Selene-and-Nikolai song–there's a whole scene that never made it into any of the books where she comes back to Saint City and just basically renovates his nest. "Come on, Nik. Live a little." Of course she doesn't touch his hall of cursed objects again, just rolls her eyes and gets rid of some of his more objectionable "antiques". A very discerning eye and specific aesthetic has Selene Thompson, and Nikolai doesn't care about the furnishings as long as she consents to stay. (He did decorate the House of Pain, though.)
Anyway. The imaginary people in my head live on, and plenty of their lives don't make it into the finished works. If I ever write the Hell Wars series with little Lia Spocarelli we'll see Selene again. She and Danny Valentine have quite a bit in common, though Selene is much more relaxed about things and Dante considers her, like Lucas, one of her few actual friends.
Yesterday I finished American Predator by Maureen Callahan; I've been on a real true-crime jag (again) and it's spread from documentaries to books (again). It's amazing how many serial killers are only caught though their own mounting sloppiness and incompetence, and further amazing how Keyes's interrogation was bungled by a single man with an outsize ego. Our entire society is set up to prioritize narcissists and sociopaths, and male ones on top of that. The rest of us suffer endlessly for it.
And with that cheerful thought, I'm about to start my Monday. Looking forward to coming home from an early run, closing up the house, turning on the AC, and plunging into work. I think Avery Black in Hell's Acre needs to do a few other things before the next assassination, the heroine in the second Sons of Ymre book will be introduced to her new status at a temple, and I've got to get a Viking wisewoman and her shieldmaid out of an elvish prison cell. Enough to do even for me, and my decks are cleared (barring disaster) enough that I can settle and simply…write, today.
It's about damn time. I need a good long calendar shot of nothing but the stories to deal with. Let's hope today cooperates.
See you around, my beloveds.