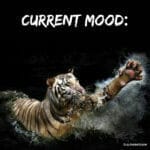 So I've been fighting with the mortgage company, which decided to insert itself into the claims process–remember that freak snowstorm that damaged the roof, the deck, and our fences? Well, the insurance company won't pay out what's required (they are not good neighbors, let's leave it at that) but they did pay out enough to defray the cost of a new roof, so that's what we're doing.
The fences and deck, well, they'll have to wait their turn. We could already have the roof repaired if not for the sodding mortgage company. It's taken six phone calls–four of which "customer service" or the phone tree hung up on–over the last two days to politely but firmly insist they get their asses together. I've been dealing with bureaucratic phone trees and judo-ing institutions ever since I knew phones existed, so this is simply annoying, but the very last bit threatens to fill me with actual anger.
The check they insisted they had to endorse as well? They're attempting to send it back first-class. No tracking number, no insurance, nothing. Not only does this company try to nickel, dime, and squeeze "service fees" and everything else out of those unfortunate enough to have their mortgages acquired (without our consent, I might add), I have the sneaking suspicion they're going to try to "lose" the insurance payout check. It's as if they want to delay repairs until properties becomes uninhabitable, likely so they can scoop up said properties on the cheap and resell them at a huge profit.
I am THISCLOSE to publicly naming and shaming this institution. I don't have much, if any, social media clout, but by the gods sometimes I'm tempted to use what little I have to teach nasty bullies and scammers the error of their ways.
Anyway. The news at large has also been dreadful, I have been unable to work with all the rest of this going on, and May is also historically a terrible month for me. I'm almost at the point of considering all this absurd and breaking down into screechy laughter, which will be terrifying for anyone in the vicinity but will also mean I'm focusing on the absurdity of suffering life under these conditions instead of the pain I'm witnessing daily.
On the other hand, I've gulped and put that damn werelion book up for preorder. Come June 1 it will be taken down from the serial platform, and my plan is to get the bloody thing out in September, though I've given myself all of October as well. It's always better to be able to release a preorder early than to ask for more time to complete it; a padded schedule is just good practice. The book might be terrible, but it's not unfinished, a few serial readers and beta readers have told me it was just what they needed, and I have to believe that even amid All This the world needs a few stories to just forget about the rest of the nonsense with.
I tell others "trust the work", and I suppose it's only fair life arranges things so I'm forced to do so as well. (What? You mean I have to take my own advice? Who came up with that rule?)
At least I'm beginning to see the funny side. Not of the news cycle–there is nothing funny about the cavalcade of horrors we're forced to endure under late-stage capitalism and its attendant racism and misogyny. But my own particular fight with windmills does have its hilarious bits. My stubbornness has been engaged, and if you've hung around here for any length of time at all, you know that's a recipe for mordant wit and sarcastic disaster.
So today is a toss-up between writing the space-werewolf-pro-wrestler erotica, or finishing formatting a certain other book. I have to believe that telling even my weird little stories has some value, that providing a few hours' worth of relief for my readers can somehow ameliorate the pain. I have to believe it, otherwise…well, let's not talk about otherwise.
But dear gods, it's difficult.
At least this is not the week I lose Miss B. The time is fast approaching, but I have a few more days to spend with her. That's a bright spot even if her doggie dementia is rapidly getting worse. She gets anxious if she "loses" me in the house, though she does accept Boxnoggin as somewhat of a substitute when I have to go for a run or a quick shopping trip. Fortunately, she doesn't get violent at all, just confuzzled and attempting-to-herd, and Boxnoggin doesn't mind her bossing him about. He treats it like play, and wears her out until they collapse in a puppy-heap.
When she chose him as a companion, she chose very well indeed.
So that's the state of the Lili this Thursday, my beloveds. I hope your day is much more peaceful; barring that, I hope you can see the absurd side. It's better than screaming, I guess. (If it's not…well, don't tell me.)
Over and out.