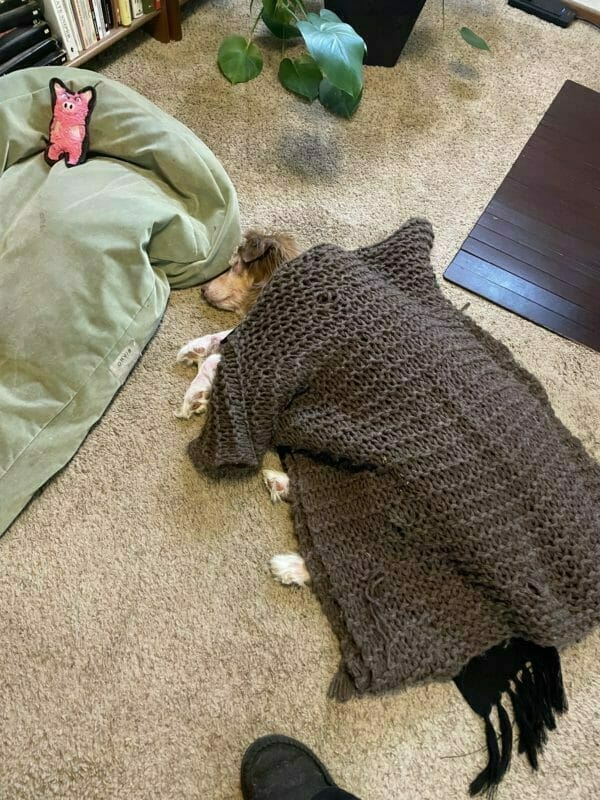 ---
Her name was Bailey; Miss B was her nom d'internet. I came down the hall at the shelter, looked into her cage, and the instant our gazes met we belonged to each other. Can we go home now, she asked, and I said, through the lump in my throat, "Oh, God, darling, yes, I'll handle it."
The first night she was home, she was woozy from the spaying anesthetic, and I carried her outside for bathroom breaks. There were accidents all night, and she would give me a soulful look as if to apologize, while I hastened to assure her that it was just fine, laundry was easy, she just had to rest and get better.
She loved running with me, and herding. She loved snuggles, and being rubbed right above the base of her tail. She adored peanut butter, and hated visiting the vet. She was smart, and fierce, and fast, and loyal. She was the very best. She herded squirrels and cats, outfoxed Neo!Squirrel more than once, longed to make closer acquaintance of Phred the Coyote, bossed her humans and cats and packmates into good behavior, slept on my bed every night, and was my familiar, in every sense of the word.
She greeted Odd Trundles, mothered him, and missed him so badly when he passed on that we had to take her to the shelter so she could choose a companion–Boxnoggin won that contest, and she supervised him relentlessly.
He did not mind.
Dogs get old, naturally, and her body started to break down. She could no longer run with me, but that was all right because there were walkies. But age is relentless, and wore away at her. I knew when May began that we didn't have much time left. Each week I thought, "well, at least this isn't the week I lose her." But last Sunday came, and her body was failing, and she was in pain. She told me she was ready–in a few days.
I didn't quite understand why she was so insistent about that part, but I think she was waiting for the rain to stop. It never bothered her much–she was an all-weather dog–but her joints ached a bit in the damp. And so today, the first gloriously sunny warm day of real spring, Bailey got up early and insisted on walkies. She sniffed everything thoroughly, and marked at the bottom of the hill and at the top. She waited patiently for the appointed time, greeted the traveling vet like a queen bestowing favor on a visiting ambassador, and laid down in my lap.
And then she left us. She left…me.
She went into the clear rational light of What Comes Next on our deck while the birds sang, surrounded by her people, with Boxnoggin keeping guard. She had her way to the very end, and her very last taste of the world was her favorite bacon grease on her favorite type of biscuit. I told her what a good girl she was, how much I loved her, that I hoped after a rest she'd want to come back because I would miss her so, so much. I told her to carry my love to Odd Trundles–Max–and I told her that I didn't deserve her but I loved her, loved her, love her so much, love her still.
The children grieve, of course–she was the first dog they ever really knew. Boxnoggin knows she is gone; he nosed her body gently and said his goodbyes.
I am undone.
I keep looking around for my shadow, my faithful companion, my Constant Girl. I keep listening for her footsteps in the hall. She was my girl, and she's gone. The pain is the price of having her for those glorious, too-short years, and I pay it gladly because I was the human she chose. She had every reason to distrust humanity, but she chose and trusted me. There was nothing she would not have done for me, and vice versa.
If you enjoyed her stories and wish to honor her, please give your furry companions some extra love. Be gentle with yourselves, and remember to bask in the sun a bit, eat something nice, and take a nap. If you like, you can donate to the Humane Society for Southwest Washington, who rescued her and let me take my beautiful girl home. (They also saved Boxnoggin and the Mad Tortie; they're good folk.)
I know it was for the best. I know she was hurting, and it was time. It would have been selfish of me to ask her to stay longer, though I wanted to, oh how I wanted to. I know, I know, I know it all, but the knowledge brings little comfort.
She was the best, and now she is gone, and I am undone. I am blessed to have had her as long as I did, and I hope to see her again someday.
Sooner or later, gods grant. Her memory–like the rest of her–was, is, and will be a blessing.