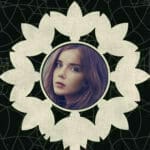 So it's Monday, and we're off to a cracking start. First the dogs attempted murder through sheer exuberance (stepping all over me while I was helpless and recumbent in bed), then through positioning–i.e., tripping Yours Truly several times when I finally achieved some measure of verticality. Then I almost missed a stair on the deck while taking them out for morning unloading, and had to grab at the banister with both hands, while whatever I was holding was flung in a high arc and landed in a rhododendron. Then I was standing, staring myopically at Horace de Brassiere and wondering why his little blue light wasn't turning on, and for good measure why the red one wasn't on either.
Then I realized the damn coffeemaker wasn't even plugged in, let alone turned on. And to top it all off, a little while later I forgot I was holding a pen (making notes on today's to-do list) and went to push my hair back, stabbing myself in the face.
So, yeah. We're doing well around the Chez this morning. Super well.
Today is for working on Hell's Acre, and also starting revisions on the second Ghost Squad book. The latter is Klemp's book, eagerly awaited by many Readers if my inbox is any indication; the zero draft got a highly positive reaction from beta readers and the second draft did very well with the editor. I'm glad to be working on revisions instead of generating new text, for once; I'm exhausted and dredging up New Words sometimes seems an insuperable difficulty–unless it's Space Werewolves, apparently? I don't know, my brain is a smoking wasteland, I just live here.
The monthly newsletter went out yesterday, so there's that, too. And the werelion story's free teaser is doing rather well at the moment. We're on the final two weeks of that book being up as a serial before I take it down and start sending it through the editing pipeline. There's also The Dead God's Heart duology needing its final brush-up before it goes into copyedits. It will be nice to have that last one put to bed, not to mention getting covers and preorder links for it so I can do up a books page.
In other words, there's no shortage of work, and maybe if I can get some caffeine in and stop stabbing myself in the face I might even get a chunk of it done between walking the dogs, forcing my own corpse to run for a few kilometers, getting estimates for house repair (that snowstorm, my gods), and planning dinner–I had a whole chicken and an InstantPot, so yesterday was very tasty indeed. And Miss B is still holding steady, so that's a giant relief.
I'm taking things on that last front one day at a time.
One thing I'm not doing is checking the news, or very much social media. Any tenuous calm I might have achieved lately won't bear that weight without snapping. News, especially bad news, filters into my sphere without it anyway; I can't escape. Nor do I want to, precisely–but I do need a bit of amelioration.
Here's hoping I don't break a limb if Monday began as it means to go on. I did eventually figure out that I should actually turn Horace on if I wanted coffee, and caffeine is currently soaking into my starved tissues like a blessing from heaven. Plus, a bit of Good Mischief I performed before the weekend has finally reached its intended target, and hearing that it made someone's day (and will provide them with a little relief) has done my mood no end of good.
Welcome to the week, my beloveds. I can hope it will turn out well, or will at least end in a stalemate.
Over and out.