That's right, my beloveds–the third and final Hostage to Empire book is officially out today!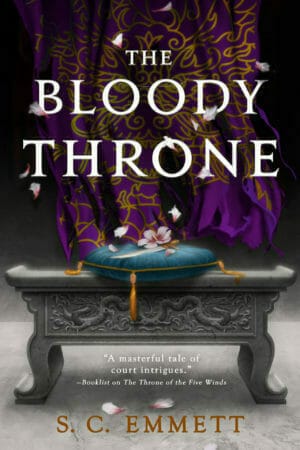 ---
The Bloody Throne
The great Zhaon empire is in turmoil. The emperor is dead and the crown prince has fallen to hidden schemes, leaving his most dangerous brother to assume the throne. The imperial court is seething, and whispers of war grow to shouts. The once-vanquished kingdom of Khir marches again to regain their honor, the savage Tabrak raid the borders after ravaging the South, and assassins lurk in the shadows seeking imperial favor.
Komor Yala, her own position uncertain, finds shelter in marriage to the cunning Third Prince. But there is little safety in Zhaon. Death and destruction mount as a blood-drenched summer ends, and to the victor will be left an empire—if it is not turned to smoking ruins first.
The wheel of destiny is turning, and all will be caught under its weight…
Now available through Amazon, Barnes & Noble, Apple, Kobo, and independent bookstores.
---
The entire series has had a difficult path to publication–no book is easy, mind you, but some are a little more challenging than others. Plague, uncertainty, changes in the editing team, all sorts of outside events all conspired against the entire trilogy. I'm rather surprised to have reached this point, frankly. There were several times during the writing, let alone the production process, where I thought it couldn't possibly be finished.
But, like all love songs, it managed to reach triumph in at least one way.
Release-day nerves have me firmly in their grip. A run might blunt the sharp edges, but only a little. I'll be hard pressed to settle to any real work today; I might try my hand at a livestream around lunchtime if I can scrape together the energy and ignore the anxiety. (But don't bet on it.)
There's a certain sadness to seeing years of work–not just my own, but that of the editorial and production crews–come to fruition. Of course there's a great deal of joy and relief, I'm just feeling the pangs of separation. The book (and the series) has to make its own way in the world now. Publishing means that I'm already working several books past the end of this one; it's like seeing one's past self encased in amber. If not for delayed gratification, there would be none at all in this industry.
Anyway, I'm halfway through my coffee and the office is quiet. So is the grey morning outside my window. The dogs have not yet started lobbying for me to make toast and get underway, so I suppose I'll take a deep breath and enjoy the peace while I can.
Have a lovely Tuesday, my dears. See you around.