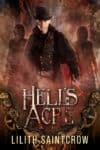 A hazy dawn is rising, and I woke up with Hell's Acre moving and shifting inside my head. Looks like the serial will be two seasons after all, because the last lingering bit I needed for the back half just dropped into place and it's a rawther elegant solution, if I do say so myself. Pulling the story off Vella did a great deal of good–I still have an experiment lingering there, though not under my real name. The platform treated me so dreadfully over a support ticket I don't want my name associated with it.
In any case, it's a Thursday, and I had a run planned but what with one thing or another it will have to be some yoga instead. The dogs are eager for walkies–Miss B in particular is attempting to get me on her schedule instead of the other way 'round. It is a perpetual endeavor, one she has been engaged in for well over a decade (we've been together a while) and I think her baffled spite when it doesn't work is part of the reason she's still in such good shape.
Spite is a wonderful motivator. Keeps one young at heart, and all that.
I have to feel out the dimensions of the gap in the VC Andrews/Cat People werewolf story, because I know what needs to happen but I don't quite see how to get there yet. And in Sons of Ymre #2 I have left the heroine feeling rather badly now that she's discovered a few things about her monster-hunting protector, and I don't quite know if she's going to try to wriggle out the window before the other monster hunters get there. She's seriously considering it, I think it's a bad idea, and we're hashing it out. The process takes time.
I was able to settle in bed last night and knock off a respectable bit of Fire in the Lake. I'm gutting it out; it's slow going, especially with the stress of current events. After this I have some of Anais Nin's diaries to read. I splurged a bit (call it research, that's what I'm doing) and bought a set. I've always wanted to read them, and now is a good time to cross that off my bucket list. Once I wend my way through the set I'll see if the itch is scratched. At least there's no shortage, Nin was prolific.
Still trying not to look at the news. The world's pain is prowling just outside my mental doors, eager to rush in and consume me. Of course I feel terrible that I can't do more, that I'm sitting here writing my little stories as the burning intensifies. It's all I can do. On my better days I tell myself that people need stories, need escape and catharsis, now more than ever. On my worse, there's nothing else I can do anyway so I might as well get some work done while I'm waiting for the mushroom cloud.
The worse days predominate lately. Any optimism I might have been able to lay claim to has been severely strained.
So I just keep swimming. Gary Moore is playing inside my skull this morning too, while the plot-building machine whirrs and jolts. I'm also thinking about tomorrow's tea–we'll talk about the difference between the Inner Editor and the Internal Censor, always a fun time. I've finally reached the point where I'm exporting old teas to YouTube, where they can live after they drop off Twitch's two-week cycle. We'll see how long this experiment lasts. My agent tells me I'm witty and personable, but all I feel in front of a camera is doltish, atavistic fear. At that point my most devout hope is that nobody is watching, which I suppose defeats the purpose of the whole thing? It's irrational on many levels, but I trust my agent and if she says to try this, I suppose I should.
Well, frankly, she wanted me to TikTok, but that's a lot of work for no return at all and I'm already in publishing, I've got enough of that, thanks.
I should bring this to a close and get toast underway. Miss B just perked up as I glanced at her–she can sense, with unfailing canine intuition, that I am about to cave and give her what she wants. Action! Adventure! A stroll around the block, during which she gets to sniff all her favourite things and be cranky at Boxnoggin's exuberance! And finally, the pièce de résistance, a treat when we return home, because her owner is a sucker and she is, after all, an elderly statesdog who has turned in years of diligent work.
Have a lovely Thursday, my dears. Today's subscription drop is prepped and scheduled, and I have plenty of work to keep me occupied. If the day behaves we might reach the end without having to get out the baseball bat.
Maybe I'm more of an optimist than I thought…