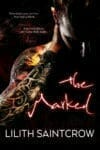 It's about time for another sale, don't you think? This month, The Marked is $2.99USD across ebook retailers! Since I've switched to Payhip you don't need a coupon code if you buy there, and you'll also get both .epub and .mobi editions there, for Reader convenience.
The genesis of this book was an intense, recurring nightmare I had when the kids were young–really young, just toddlers. I suppose every parent has a version or two of this particular fear; of course, I decided to exorcise mine with fiction. It grew in the telling, of course; Preston Marlock came almost out of nowhere and the idea of "living" tattoos had been kicking around in my head for quite a while. The latter is fascinating enough that I might return to it.
Jude's grief was difficult to soak in. Once the book was finished, though, the nightmare became an every-few-years event instead of an almost-weekly one, which was a ginormous relief.
I still mean to write the second book, featuring the shadowy secret society and a great deal more of Marlock's trauma. Unfortunately, like so much else, it has to wait until there's enough money, enough time, and (very important) a clear spot on the writing schedule to invest. In the meantime, the characters are at a resting point, however tenuous…