That's right! It's finally time–the paranormal romance with Cthulhu, King in Yellow, and H. Rider Haggard callbacks is now out in the wild!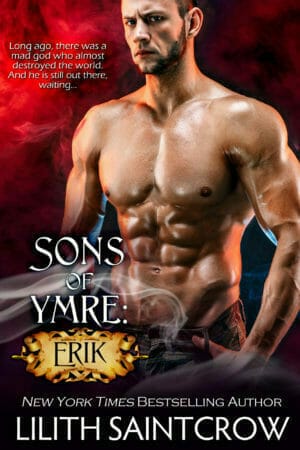 ---
Long ago, there was a mad god who almost destroyed the world.
And he is still out there, waiting…
On a cold winter's evening, Liv Stellack escapes a bad date…and walks straight into nightmare. Kidnapped and held without ransom, she's ready to use every trick in the book to escape. But her captors aren't criminals, they're Sons of Ymre, hunters of the unclean things living in the cracks of sanity and dreams—and Liv is a valuable tool in their war against the Mad God.
Erik knows the beautiful woman they've rescued can't possibly understand the danger she's in, or the fact that she's being held for her own protection. Some things can't be explained, only shown; he and his fellow Sons have to keep their precious potential alive long enough for the days to lengthen so she can be transported to another temple and learn how to fight an evil older than recorded history.
But treachery lives in the Mad God's chosen, and it's soon obvious that one of the Sons can't be trusted. Fleeing for their lives, Liv and Erik must make an uneasy alliance, depending on each other to reach tenuous safety.
That is, if the monsters don't get them first…
---
It's got tentacles, a flame from the center of the earth, intrigue, betrayal, insanity, more tentacles, a smart tough heroine with a psych degree, a hero (if you can call him that) determined to do the right thing no matter what, intrigue, yet more tentacles, and nailbiting rescues at the last moment. And more!
This book has had a bit of a difficult run through the production pipeline, due to pandemic shortages and schedule-changes. But we finally triumphed, and now it's out, thank goodness. I'm currently at work on Book #2, which involves a lot of another "hero" (really, I am so hard on these guys) getting stabbed or bitten in the ass. Honestly, after you read Book 1, you'll understand, this guy deserves it–but he's getting a lot better, so at least there's that.
As usual during a release day, I'm a bundle of nerves convinced nobody will ever like the book and I should just quit writing wholesale. You'd think it would get easier each time a release rolls around, but…nah. Fortunately there's toast for brekkie, the dogs to walk, and a whole passel of work to get done if I can just get my head out of the Bucket of Hyperventilation. We'll see.
Happy Book Tuesday, my friends. I'm excited to share this one with you, and I hope you like it.
Off I go, to the bucket…
ETA: It wouldn't be a release day without something going wrong, now would it? Apple waited until release day to pettifog and nitpick with the publisher about the book file (bad distribution platform, no cookie) but the issue is being resolved as I type this. I'll update the buy links as soon as that gets worked out.
ETA 2: Hurrah! It looks like Apple sorted themselves out!