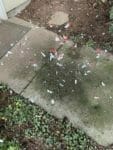 It's a brand new year!
The dishwasher has stopped working, there's a leak under the kitchen sink, and the tire pressure sensor light is on, but it's a new year. Amazon has decided to start penalizing authors because e-thieves are pirating their books, but it's a new year. The CDC has decided to sacrifice lives for the economy as if they're Republicans, losing what little moral and scientific authority they had left, but it's a new year.
December 25th rolled around with a new item here at the Chez. The Princess picked up some cheap crockery at the dollar store, and we began the day by shattering a plate apiece, by either deceleration or hammer, on the back walk. The kids are enchanted with this, and can't wait to do it again next year.
Why would we do such a thing? Well, holidays are…problematic, for me. Every single "holiday" I endured growing up was a nightmare of mounting pressure until the inevitable raging explosion from one of my adult caretakers. At that point, the worst had happened and all I could do was endure.
There's a certain relaxation in, "it's happened, all I have to do now is hunker down." So this year, as the pressure and tension of anticipating the worst on a "holiday" mounted, I decided to do something about it. And lo, it worked.
The sound of breakage triggered the release valve, and the rest of the day was actually pretty nice. It's the first time I've enjoyed Christmas in decades, frankly, and the kids were absolutely thrilled. Everyone got a plate to break, we all pitched in with the cleanup, and then there were good things to eat and a cosy blaze in the fireplace all day. The kids are bound and determined to do the same thing next year, if the pandemic doesn't end up getting us after all.
…yeah, you can tell even my agathism is taking a beating. We're in Year 3 of the Pandemic, after all. If one goes historically, this is the year things will get sorted (the Spanish Flu basically took three, I'm going to cover my ears and scream if anyone says, "but the Black Plague…"), at least on the epidemiological front.
I also received some…let's call it "news", on Boxing Day. Not unexpected, and I was prepared and braced, but it was still deeply uncomfortable and called up a lot of complex feelings. I'm not surprised things started to go haywire just afterward.
So here we are in 2022. May this year be better than the last, however incrementally. I've got a load of work this morning, including making bloody phone calls to get the leak under the kitchen sink sorted and the car's tires checked. Of course everyone will be doing everything they put off last week because of the holiday, so nothing will get done in a timely manner, but that's to be expected under current conditions.
There's nothing to do but keep going. I sent off yet another book–the second Ghost Squad novel, Klemp's book–last week too, very early but that's better than late. Now I can turn my entire engines to Hell's Acre, and also spend some time on the second Sons of Ymre book. I intend to work until it becomes an impossibility; it seems the only way through.
Welcome to the New Year, my beloveds. If all else fails, try breaking a cheap plate or two. It worked wonders for us, I've gotta admit.
Excelsior, and all that.