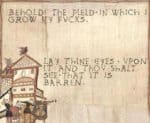 I should have known that every victory on the first Monday of 2022 would exact a price. It was going so well, too! I finally got repair for the dishwasher and the kitchen sink scheduled, not to mention some actual work on Hell's Acre and Sons of Ymre #2. I went to bed feeling reasonably content, even if things are not exactly ideal.
Alas, Past Me was apparently an unforgivable optimist. But maybe I'll feel better about her habit of being hopeful after coffee. I suppose writing while uncaffeinated, as I am currently doing, means a touch of growl seeping into my voice.
The upshot of all this is that there's errands today. Hopefully I can get them done with a minimum of fuss and retreat homeward, giving ground very slowly and making the year work for every inch it gains. The stage after the loss of sunny optimism is grim determination, teeth sunk into the hide of the monster and my claws working deeper and deeper, seeking a vital hit.
On the bright side, the heroine in Sons #2 is talking. She's far different than the heroine in #1, which is only to be expected, and I think she's just exactly what's needed. But I made a mistake in the very first scene, and it's such a deep and integral one I have to go back, rip out three-quarters of what I did yesterday, and rework it.
Of course, I'll probably find out after reworking that said heroine won't talk unless I have it the way it was originally written, which means I'll need to throw out most of what I planned for the book itself and restructure from the ground up simply because a single character simply won't cooperate.
I am not quite complaining about this, mind you. Realizing a mistake earlier rather than later is a gift. Plus, it's far better than being so stressed the words refuse to come out at all, which has only happened two-three times in my entire life and is so awful I never, ever, ever want to endure it again. I'm trying to find the funny side–I'm arguing with the voices inside my head while my entire career is telling lies (which, let it be noted, manage to show a certain truth if I've done my job right) for a living.
Put that way, it is indeed kind of funny. So is the prospect of each individual errand I have to run today. They're all hilarious if I look at them the right way.
Gods grant me the strength to hold up each one and turn it to the light in order to catch that funny side, however small and bleak. No doubt I'll feel much better after a morning run, too. Yesterday was my first day back on the pavement in about a week (what with holidays, disasters, and Bad Weather making it Literally Unsafe To Step Outside) and the endorphin hit was most welcome, indeed. Plus it's been over two weeks since our booster shots, so every single person in the house is as protected as possible.
There's going to be something funny in all this. There has to be, and by every god that ever was, I will find it. If I must go down nibbled to death by a tidal wave of papercuts, I will go down laughing. Sure, it might be screamy breathless merriment, but merriment nonetheless.
Laughter is one of the 100% reliable ways to banish demons, after all. And now it's time to finish this coffee, get the caffeine worked into my muscles, and walk the dogs, who could not care less about the rest of the world as long as they get their kibble, snuggles, and other assorted daily rituals.
If you hear a faint, screeching laugh upon the wind, beloveds, don't worry. It's just me.
Let the Tuesday games begin.