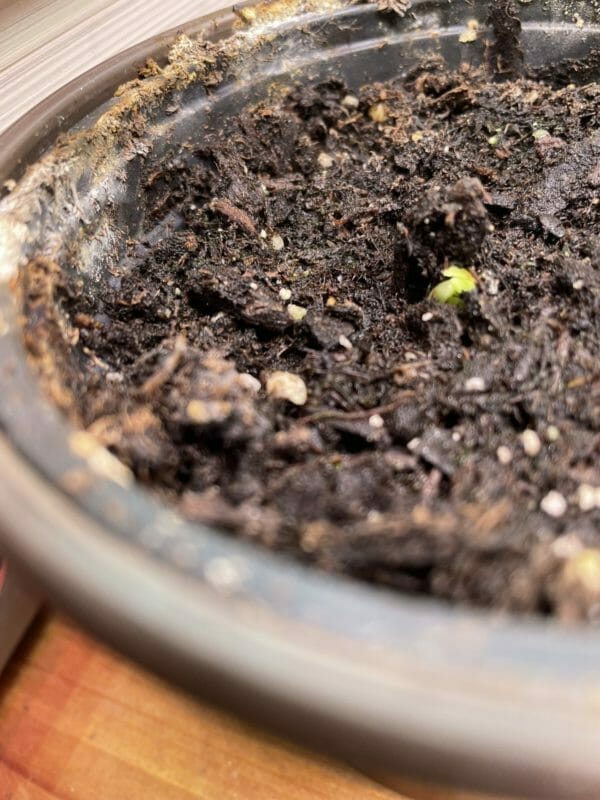 ---
If all goes well, this will be a silk tree. Of course, a lot depends on if I've provided the right growing conditions, and if the seed was truly viable and not damaged by recent weather. If it doesn't work out, the tree one block over will produce a new crop of seedpods next year, and I'll try again.
Assuming we're still here next year, that is.
There's just a hint of green, and it's by no means certain. A hundred things could go wrong. I have another seed in a similar pot, and will try to coax both along. Over and over I plant, and whisper encouragement, and wait.
If everything goes as I hope, there might be a sapling in our yard next year, but that's no guarantee either. Insects, rot, drought could all strike–we had a tiny oak that didn't survive last summer's 115F heat dome. (Thanks, corporate-fueled climate change!) But who knows? Maybe we'll have a silk tree eventually, with its marvelous powdery scent for a few weeks in summer and its pretty pink and yellow blossoms.
Of course, by then we might not be in this house, or something. No guarantees there, either.
But still, it's important to whisper a little love into any seedling one can. I'm feeling low and drained these days, my beloveds, and doing my best to hold on. A little kindness, a tiny murmur, a small corner where the growing conditions can be tweaked and helped along…it's all I can do. I don't know if it's enough, but it's what I've got.
Be kind to yourselves this weekend, dear ones. These are terrible, extraordinary times, and we're all on our last frayed nerve.
See you Monday.