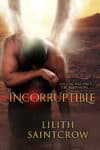 Monday has rolled around again, with a great deal of cold winter rain. Which is quite pleasing, both to me and the thirsty cedars. Summer was dreadful for us all.
I was lying in bed last night, drifting towards slumber–or, more precisely, staying very still and quiet hoping insomnia wouldn't notice me–when all of a sudden, I was jolted by the solution to a particular plot problem in Hell's Acre.
More specifically, I had reached a blockage during a dinner (not a dinner party, but it might as well have been) and had to throw up my hands, leaving the entire damn thing for the Muse to work on under the floorboards while I did something, anything else. The fact that I'm beating my head against revisions for The Black God's Heart doesn't help.
Said revisions (there are Problems, fortunately I am in the business of Solutions) are threatening to kick my ass, so I had to throw up my hands and call in reinforcements. I am always very chary of such a maneuver; growing up, asking for help was a sure way to get the stuffing kicked out of one. It's taken a lot for me to begin to quietly, carefully, in certain very circumscribed ways–and always as a last resort–ask for assistance from selected individuals.
Fortunately, I've learned that said carefully selected individuals are flat-out thrilled to be asked, and furthermore, it is possible to get said help without paying an extortionate, painful price for it. Growing up has been good for that much, at least.
The sudden bursts or jolts of insight that occur after one has reached an impasse in a particular work are of a different character, though, and they rely on the same incubation-illumination dynamic as the rest of creativity. So there I was, in the dark, minding my own business, when I realized that the point of the whole dinner wasn't solely what I originally thought but instead a means of additionally bringing in the complication among Avery Black's Rooks.
It only took weeks of agonizing before the Muse finally dropped that little aside, lighting up the whole back half of the serial's first season from another angle, so of course I had to make a goddamn note of it, because if one doesn't write that sort of thing down it might flee into the cracks between sleep and waking, never to return.
I had to run the risk of insomnia finding me if I moved, but nothing ventured, nothing gained, you know. And this morning there was the note, scrawled haphazardly in the dark. Now, of course, it's safely put in the manuscript margin, inside brackets, and I feel a lot better about things.
So it was a weekend full of (a little) rest and (a lot of) retrenchment, reading giant gulps of Nabokov and getting a truly stunning amount of revisions and housework out of the way. Of course said revisions aren't even half done and this upcoming week is full of at least twelve-hour working days to catch up from the bloody vapor-lock…
…but that's the way it goes, and I am lucky to have as much, I know. So here I am, eyeing the next glut of work and the bloody to-do list, and the dogs are lobbying for their walk. They have forgotten entirely the fact that it was pouring when they went out for pre-breakfast bladder-unloading, and will be discomfited all over again when we embark. At least, Boxnoggin will, for he despises the rain. B, of course, is an all-weather pooch, though I'm sure her joints ache a bit nowadays. She is an elderly statesdog, and no mistake.
Welcome to the week, beloveds. Keep your hands and arms inside the carriage, and don't make eye contact with Tuesday. We have all we can handle right now, and the ride has commenced.
Over and out.