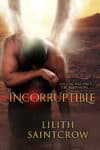 Welcome to December, my beloveds! And in celebration of the new month, Incorruptible is $3.99 across ebook platforms–Barnes & Noble, Kobo, Apple, and Amazon. You can also buy it direct at my Gumroad store; if you enter the code "ANGEL" at checkout there, the discount will automagically apply!
I really liked Michael Gabon and Jenna, and have ideas for a second book in their world. (In all my copious spare time!) Plus, the cover, by the inimitable Indigo Chick Designs, is absolutely thrilling. (She thought it would be "too much." Pshaw, as if.)
If you're not sure whether this is a book for you, the first few chapters are available for free to help you decide. 'Tis the season for gifts, after all.
Come January 1, regular pricing will resume and I may (or may not) have another book on sale. We'll see. In the meantime, enjoy Jenna and Michael's cross-country, demon-infested road trip…