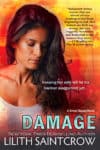 I…may have recovered from the zero draft of Ghost Squad #2? Maybe?
I mean, the holiday didn't help (even though there was pie, my gods, SO MUCH PIE) because I was on tenterhooks the entire time. The idea of getting some cheap Goodwill plates/other crockery for smashing early in the day–just to get the whole thing over with so I can relax–is highly seductive, and I might even brave said Goodwill one of these days before Yule.
If I can find a time when their parking lot isn't flooded, either with maskless hordes or actual water. Our local Goodwill is…something else.
Anyway, I may have rewrapped my nerves a bit, which means next I turn all my engines toward a little more Hell's Acre (now on Kindle Vella, too) but mostly onto revisions on The Black God's Heart. I finished the latter's zeroes during lockdown (amazing how many things I am saying that about lately) and both books undid me. It will probably be exhausting to revise them, but hopefully not in a bad way. After that I've Sons of Ymre #2 to write (Jake and the heroine are both speaking inside my head, albeit softly) and the second book of the Tolkien Viking Werewolves.
So my schedule is bloody well packed but I have a few things crossed off the master to-do list. The Hood omnibus is ready for its drop in January 2022, the zero of Klemp's book is done, and I survived NaNoWriMo. January should also see Sons of Ymre #1 released, though I have no preorder links just yet. It's enough to know the book's on its way.
So I'm in that fragile stage of recovery where I can easily hurt myself by pushing. This is when most re-injury and spiraling back down into burnout generally happens, so I'm not allowed to work too hard.
That's the balance. Working hard enough to stay afloat, but not so much that I tear all the scars back open. It's like riding a unicycle while juggling flaming chainsaws and whistling a song one's only heard once, and the penalty for any dropped note is an earthquake.
Fun, right? Why on earth would I choose any other job? Heh.
It's Monday. The dogs are ready for their walkies, and there's a run for my weary corpse to be accomplished–I took last week off and the itch under my skin is well-nigh unbearable. The coffee is almost absorbed; consequently, I am almost, almost fit for human consumption. I've also been unsubscribing from many a newsletter this morning, so am almost ready to start the new year with a clean digital slate.
Almost. Year-end housekeeping is generally a chore; this time around it's a mark of survival. We're still here, you and me.
Might as well get to work.