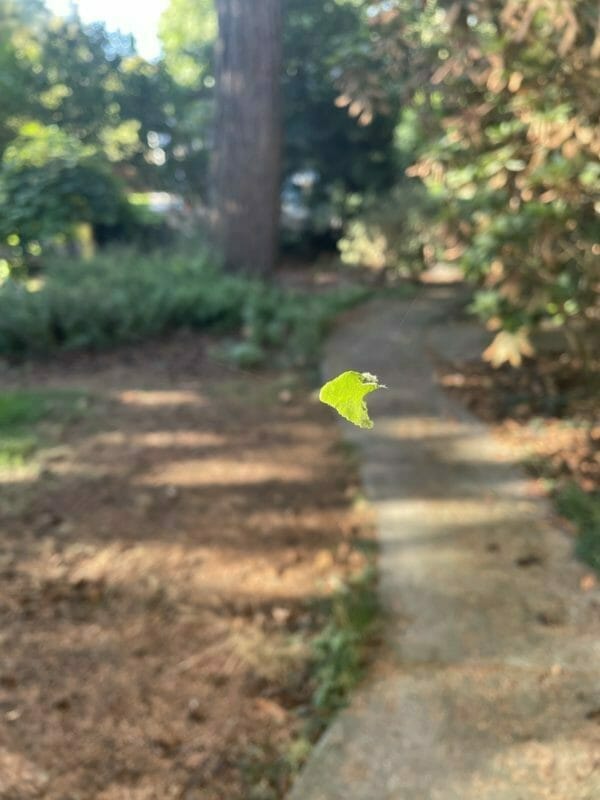 ---
The feeling when one is just ditty-bopping along, minding one's own ditty-bopping business, and one comes across a floating bit of leaf…suspended from gossamer threads tiny eight-legged predators extrude from their backsides.
You cannot tell me Nature, the gods, the Universe, or whatever's responsible for All This doesn't have a sense of humor. Sometimes that sense is almost as bleak and mordant as my own, sometimes it leaves mine in the dust, and sometimes it's complete zaniness. I mean, think of platypuses, a giraffe's blood pressure, fungus in general, the fact that rats laugh when you tickle them, entire groves of birch trees as a single organism–and floating leaf-bits, hanging from silk from spider buttholes.
Laughing at the absurdity is better than screaming at an uncaring universe. Or so I firmly believe, and will believe until I am shuffled out of the mortal coil. Plus, this shit is just genuinely hilarious.
Have a lovely weekend, my darlings. Be kind to yourselves, and each other; keep a sharp eye out for the weirdly funny lingering in every corner…