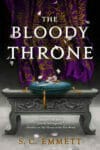 Oh look, The Bloody Throne has a cover! Whew. I'm still waiting for the author's copies, which will mean the series is all the way done instead of just mostly done, but it's very nice to reach each semi-final milestone.
Winter–such as it is in the Pacific Northwest–has arrived. The first line of real, lovely storms moved in, dumping rain and stripping plenty of leaves. The clinging remainders are brightly colored, as a rule; there are bits of wet flame everywhere. The dogs are extremely glad for the heated mattress topper1 on my bed; Miss B's old bones and Boxnoggin's slick coat mean they both enjoy the heat on "their" side.
Yes, they have a whole side of the bed. In the first place, I'm a sucker. In the second place, they'll alert me of hijinks and intruders, and that's part of their job.
They work hard, the fuzzy little brats.
I spent the weekend with kitchen chemistry. My candymaking is improving by leaps and bounds, mostly due to having the proper tools. It's been a real journey of, "Oh, this is why they recommend using one of these! Who knew?"
I did not work on the NaNoWriMo book more than lightly. Ghost Squad #2 (Klemp's book, for those playing along at home) is moving right along. It's about time for the first real danger, which I think will be cut brake lines.
I just have to figure out what in hell the cutter of said brake lines is bloody well thinking. They're utterly convinced of the rightness of this course of action, while I'm mystified. They'll tell me in a bit, I'm sure, I just have to trust the Muse knows what the hell she's doing when she insists on something like this.
Never been wrong yet, but there's always a first time.
I also have to reserve a significant amount of time today for revisions on The Black God's Heart. I'm getting to the point where I distrust both projects, revising or in the process of creation, which is normal at their respective parts of the process but hardly comfortable, especially when I'm staring at the NaNo book and muttering, "why the fuck did I think I could do this, who the fuck do I think I am, everyone is going to hate this book, YOU MIGHT AS WELL STOP WRITING NOW, LILI."
Plus ça change, and all that. Plus there's the pressure of other deadlines looming. My ability to distinguish between "deadline RIGHT NOW" and "deadline a little later" is all caddywumpus, despite all the scheduling software I use to keep on track. (I like Cushion.) I thought I could also work on Jake's book (Sons of Ymre #2) at the same time, but instead of being able to juggle four projects at once I'm down to two slots during the day when I can give my full attention to things.
I'm torn between "lo, how the mighty have fallen" and "this goddamn pandemic, we could have been past this by now if YOU PEOPLE2 would just cooperate." Neither are particularly comfortable.
At least there's some rain. Most mornings are nice and grey, just the way I like them. Boxnoggin is definitely not pleased by that, but he loves the occasional blaze in the fireplace, cuddles on the couch, and (of course) the heated mattress topper, which sometimes I turn on during the day for his napping pleasure.
There are good things in this season, even for a summer dog.
My scheduling app informs me that it's time to swill the rest of this coffee and get the canines walked. We're a bit early this morning, because there's a lot to do. I suppose I should get started.
Let's hope our respective Mondays behave, my dearests. If not, I've got that ashwood Louisville Slugger ready.
It's nice to have a plan.