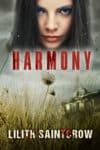 Today's the last day my folk-horror novel Harmony is $3.99 across ebook platforms! Next month there will be another sale (at least, so I hope) of a self-published Lili book; but for today, you can get Val's story for a song. (And if you've read the book, that particular turn of phrase might give you a small shiver.)
It's a lovely grey, cloudy morning, and I've a vast amount of work to attempt today. At least an hour on Hell's Acre–I need to reread a bit to pick up the thread(s), since the book is telling me it might want to be one long season instead of the two planned–and then some more revisions on The Black God's Heart. I am in full-fledged writerly revolt on one or two points, and bracing myself to do a bit of battle.
But that's usual in this part of the process, on both counts. Misbehaving zero drafts and well-meaning editorial interference are constants, yea until the end of time they shall be with us, amen.
Some last-minute proofreader queries for The Bloody Throne arrived today, too. I thought I was done with this book, but it just doesn't want to let go.
Lying on my office floor kicking and screaming like a two-year-old won't get the work done, though it's immensely satisfying to contemplate. Dogs need walking, coffee needs swilling, my corpse needs a good run–after taking last week off my speed has increased a bit, but the rest of me is distinctly unhappy even with short jogs.
The body will adapt, and even be grateful for the rest and the renewed exercise. The endorphins yesterday almost took the top of my head off, and it was a welcome relief from the sense of spiders crawling under my skin.
I got a moderate amount of work done yesterday, and am not supposed to push since I'm still technically in recovery. It will be difficult not to scream "DO ALL THE THINGS!" and then wake up tomorrow with a did-all-the-things hangover. The crushing realization that Doing All the Things just means there are New Things To Do Tomorrow has not managed to fully sink into the consciousness of my inner child; I still, on some level, think there's an end to striving.
I mean, technically there is–I will rest in my grave-urn, unless something extraordinary interferes–but I'm not resigned to it yet…
…yet, of course, being the operative word. Maybe just a few minutes of lying on my office floor kicking and screaming like a toddler are in order, just to get it out of the way. I'm sure the dogs will love that.
Well, the coffee's gone and I have the new baseball bat to hand. Perhaps I should formally embark upon Tuesday.
See you around.