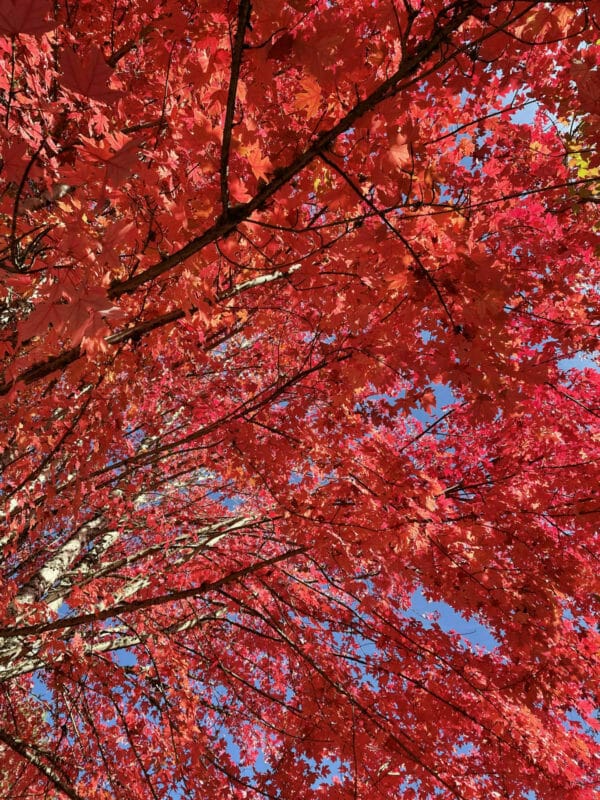 ---
A particular maple on the daily dog-walkies route turns into flame every year. This time around she's incredibly vivid, almost incandescent. Standing underneath on a crisp autumn day, I almost forget the leashes wrapped around my waist and the dogs sniffing or finished with their business and eager to keep going.
The maple lays a red carpet along the sidewalk, too, but lately I've been peering through the branches. I've spent a long while looking down, careful of my footing; I figure it's time for a change.
The kids and I joke whenever there's a windy day–especially during autumn–and tree-bits are floating far and wide, "The elves are about again." You know how every time there's elves in movies, the air's full of feathers or falling leaves or sparkles or something? Maybe it's all the Tolkien I've read and my kids have watched. Neither of them can get through the books, but the films are something else.
I think that's great; the more, the merrier.
Of course soon the branches will be bare, making patterns against the sky. Still, each time we pause under that maple, whether in summer's green, autumn's chilly fire, or winter's nakedness, I try to look up.
Even if only for a moment.