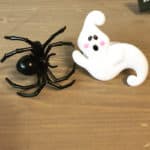 The prospect of rain has me positively giddy.
At first they said "Wednesday" but now the fronts appear to be arriving Friday, and I'm sure that will change too as the day gets closer. But it's September, the rain is on its way, and soon I'll be able to run while water falls from the sky. Puddles and grey skies and relief from incessant glare and heat–oh, I'm ready. I'm so ready.
My favorite time is almost upon us. There is a Spirit Halloween pop-up very close by; it's the one time a year I can get decorations matching my everyday aesthetic, and at a good price too. The only thing I miss is giving out candy, but between the dogs and the plague, well, that's going to have to wait. Some years I would put a large bowl of candy and a "take one" sign out, and while the younger kids could absolutely be trusted several parents and teenagers apparently cannot.1
The "ruin it for everyone" crowd starts small, and close to home.
I'm very sure my irritation will also smooth out as soon as the first drops are well and truly fallen. I'm looking forward to the spike in productivity rain always brings me, too. I could use it; I've spent the last few weeks doing formatting, forcing a certain print distro to do their bloody job or communicate with something approaching professionalism2, proofing, CEs, spot-reading–all the stuff around writing that isn't writing.
I have finally gotten through all that (except for the proof pass which will land next week, I think, and finishing up that book will be such a relief) and it's time for me to settle into more actual writing instead of just stealing a few minutes here and there. Of course so much in life conspires to keep me from the keyboard, and I resent a great deal of it. Just leave me alone to write, I want to howl. Leave me alone with my thoughts and the thing I was meant to do.
I don't often close my office door–for one thing, even though the kids are grown the old habit of being on call 24/7 for them does not go away–but I'm considering it. Not to shut out anyone in the house, though the dogs will probably play some version of Rum Tum Tugger3.
No, instead it will be a signal to shut the rest of the world out, including online. My empathy has been pummeled like a speed bag, and I need time to heal. Or something, I'll just be glad when the drubbing stops. I need a breath, even just half a breath.
Maybe my furious productivity all year to keep from sinking was a bad strategy. Maybe it wasn't. Maybe I'm just tired and longing for rain. I won't know until the first drops fall and I feel that huge, numinous relief.
Other people are hopeful in spring. I'm hopeful when the PNW turns grey and chilly, when sodden leaves clog gutters and storm drains, when the world smells like cold wet fir and mushrooms in moldering forest litter. Maybe this winter I'll feel like baking again; I did practically no bread last year–why bake when there was no hope, or so little hope I had to reserve it for tiny spoonfuls?
…I didn't mean to write most of this, but I think I'll let it stand. There must be other people anticipating the advent of autumn with quiet, longing relief. Besides, there are the dogs to walk; Boxnoggin will not like the return of wet days but very much likes being toweled off when we return from soggy rambles, and also loves the office heater when I am forced to drag it out every fall.
I didn't even have the spoons to put it away in spring. There are many little things I've looked at all year and just thought, "I have no energy for that, it'll keep."
Which turned out to be right, but every time I look at some of those small things I feel a definite draining sensation. Maybe this weekend I'll forego the usual chores and just have a day of doing things I've put off. But that's days and days from now, and I've writing to do.
Always, there's writing to do. I can't wait to get to it, so I bid you a very civil adieu, beloveds. I hope you have something pleasant to anticipate today, if not all week.