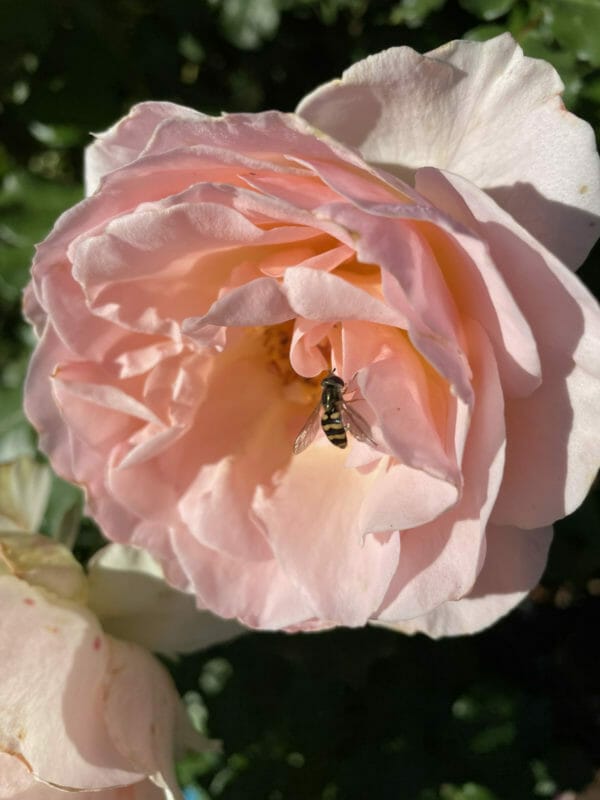 ---
This lovely stripey friend rode my shoulder all the way up the hill, while the dogs trotted alongside us, and then kindly posed for a snap. They didn't speak much, being wholly occupied with their work, but I think they gave me a kind glance before diving into the heart of the flower.
Of such small things hope is made, I suppose. Neither of the kids are ill, I can still smell and taste, and nobody's running a fever. So it's probably not The Plague™. It's becoming more and more likely, in fact, that my body has simply had enough of me working myself to exhaustion and is registering a protest the only way it can.
Said body does signal service carrying my silly self around, poor thing; I should be gentler with it. Of course it likes running–once the running's done, of course, and I do try to give my corpus the nutrition it needs or wants with very little trouble or bitching.
But the constant fear and agony of hopelessness is wearing upon my poor physical self, I think. I don't know how to make that go away, because it's saturating the very air.
Yet my heart keeps on beating. My lungs keep on working. The stories still leap and gambol inside my head, demanding to be told. I keep trying to love without reserve. And a small piece of terrestrial life rode my shoulder this morning, basking in early-autumn sunshine, before hopping off to make a fine meal in the very depths of a flower.
Maybe it isn't all just hopeless bullshit. Maybe.
Be gentle with yourselves this weekend, my beloveds. Above all, mask up, wash up, and get your jab(s). You're important, and we need you.
See you next week.