I have been an extraordinarily busy bee lately! HOOD's third and final season came to a close in May, but pandemic woes and hassles put off its wider debut. I meant to have this out in early August at the latest, but the world had other plans.
---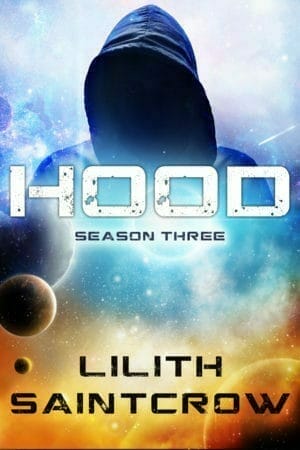 HOOD: Season Three
Robb Locke's trapped in a high-security Panoptikon and Sharud is under embargo, the military governeur Notheim's fist is tightening around the throat of the entire system for his master Jun Planetagen, and all hope is lost. Somewhere at the edge of charted space, the true ruler of Anglene is drifting in a wrecked flagship.
If Marah Madán can reach Gran Parl Riccar before the oxygen runs out, she can not only save Robb but also the rest of Anglene. It's going to take all her wit, all her resources, and a collection of spies, codejackers, rebels, and outright criminals, not to mention betraying her other childhood friend–Ged Gizabón, a dangerous adversary with secrets of his own.
Anglene is boiling, ready for yet another bloody civil war–and when it ends, Jun will be not only the Parl but the unquestioned dictator of the entire galaxy. Unless Marah and her ragtag alliance can stop him.
No hero ever stands alone…
Now available at Barnes & Noble, Kobo, Apple, Amazon, and direct; print edition available here.
---
I loved writing my little Robin Hood…in SPACE! I especially loved the feedback from serial readers as we got to things I'd been planning and leaving Easter eggs for all through Seasons One and Two. Writing and finishing a final season under pandemic conditions was…not ideal, let's say. But every time I thought "maybe I should just stop this, refund everyone's subscription, and walk into the sea" someone wrote me saying that the last chapter had gotten them through something horrid, or that they were eager to know what happened next, or thanking me because they could look forward to weekly chapters of Robb and the gang's death-defying stunts.
Like clockwork. That sort of thing makes a writer endure.
I wrote a little bit before about the literary influences of the serial, and there's an Apple Music playlist. (I had to leave Spotify, my friends. Long story.) But if I absolutely have to be one hundred percent truthful, a lot of the serial's genesis lay in a particular BBC series, and a particularly fine-nosed actor's portrayal of Guy of Gisbourne.
Plus there were all the neckbeards writing me about how my faster-than-light communications (fittles, in the serial, for FTL), not to mention travel (starsteal), generation ships, and other stuff didn't obey their particular neckbeard ideas about how sci-fi should be written. I was getting my ovaries all up in their space opera, and they didn't like it–to complete the job of pissing them off, there's a whole chapter stuffed full of Star Trek references, because if you're going to come for me about sci-fi, assholes, you'd better come correct, and even your holy Asimov and Heinlein, not to mention Roddenberry, did a great deal of hand-waving. I shall not apologize for my own McGuffins.
The series is completely finished now; all three seasons are out in the wild, and there are plans for an omnibus edition. But for now, I'm going to take a breath and marvel at the fact that this particular season, written during lockdown and brought out under acid-test conditions, is finally having its book birthday.
A huge and hearty thank you is due to my beloved subscribers, without which this trilogy (not to mention Roadtrip Z) would not be. Said subscribers are currently funding Hell's Acre, which I'm having a lot of fun with. The direct support, allowing me to tell longer, more complex stories which might not find a home in traditional publishing, is positively amazing. So, thank you, my friends, and I can't wait for you to see what I've got planned next.
And as usual on a release day, here's a link to my Discord server, where fans can discuss at leisure. (Said link will only be live for a medium-ish while, to dissuade bad actors.)
It's been a long, strange ride. I'm not even feeling release-day exhilaration, just the regular nerves and a faint sort of harassed wonder that it's whole and complete, especially under these conditions. I suppose I should go put my head in a bucket and do some deep breathing.
See you around, my friends.